Ageas Retail Intermediary
Case Study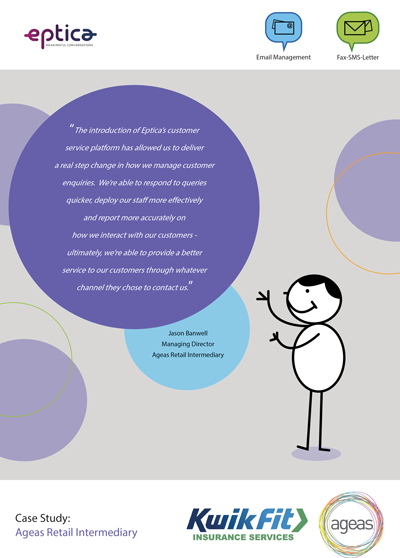 Part of Ageas UK, a leading provider of awarding-winning insurance solutions, Ageas Retail Intermediary (ARI) operates as an insurance intermediary within the personal lines insurance market. A key ARI brand is Kwik-Fit Insurance Services (KFIS) which is based in Glasgow and operates a large scale contact centre providing sales and service support including more than 275,000 written communications (email, web forms and white mail) each year.
"The introduction of Eptica's customer service platform has allowed us to deliver a real step change in how we manage customer enquiries. We're able to respond to queries quicker, deploy our staff more effectively and report more accurately on how we interact with our customers - ultimately, we're able to provide a better service to our customers through whatever channel they chose to contact us."
Jason Banwell, Managing Director, Ageas Retail Intermediary
Download the case study
Please take a few moments to fill the information below.