Self Service
Convenient 24/7 customer online self service
AI powered self service across web, mobile and chatbots; use linguistic technology to match your customers questions with answers from your knowledge base
Deflect and Reduce Costs
Don't force your customers to use expensive channels and add to your interaction volumes, put your knowledge base to work instead.
Easy, Even Effortless CX
Keep your visitors engaged with fast answers to queries, you can even offer automated contextual assistance and suggest articles, before they even lift a finger to search.
Attractive, Rich and Optimized
Simple to create and edit beautiful articles, easy to enhance via embedded content, with URL rewriting and SEO tags for even greater online visibility and traffic.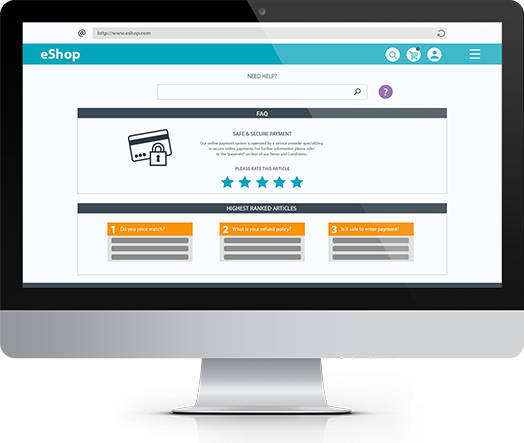 Advanced Semantic Search
Keyword search is not enough! Use our Natural Language Processing (NLP) and text analytics for deeper understanding of questions and automatically match these with relevant answers from your knowledge base.
Multi Language and Multi Brands
Available in 26 languages so you can deliver consistent, high-quality service around the globe as well as manage multiple brand identities seamlessly.
Contextualized Articles Throughout Journey
Provide contextual guidance via a web widget to suggest relevant articles based on the section or the page your visitor is viewing currently.
Knowledge Base Editor
Create knowledge articles using WYSIWYG, embed enhanced information such as videos, and add interactive tables and other widgets. Publication control manages the publication and/or expiry of content.
Built-in Escalation Forms with Deflection Steps
Deflect even more by suggesting the best answers from the Knowledge Base based on your visitor's query text, before it is submitted to the contact center.
Publication Controls
Ensure you are always up to date by managing the publication and/or expiry of content.
Search Engine Optimization
Support for SEO tags within articles, enables you to publish information to internet search engines easily and drive more traffic.
Chat/Form Escalation
Seamless escalation from self to assisted live or automated service, you can choose the escalation channel to chat, chatbot, email etc.
Content Ranking
Allow customers to rate the effectiveness of your knowledge base entries and use this information to optimize content continuously.
Trusted by leading brands and organizations
From banking, insurance, retail, tourism to the public sector, Eptica transforms digital customer conversations worldwide.
Want to know more? Request a demo today.