Email
The best personalized response, first time
Improve accuracy and consistency to build valuable customer relationships that grow your business.
Faster Response Times
Combining intelligent routing and automatic answer suggestion means your agents can increase their productivity, improve quality of service and respond more quickly.
Consistent & Personalized Answers
Using a central knowledge base ensures agents are using the most up to date content and with 360° customer visibility and history they can personalize conversations easily.
Better Handling of Message Volumes
By tracking all messages you will have a better understanding and ability to control your interaction volumes and SLAs.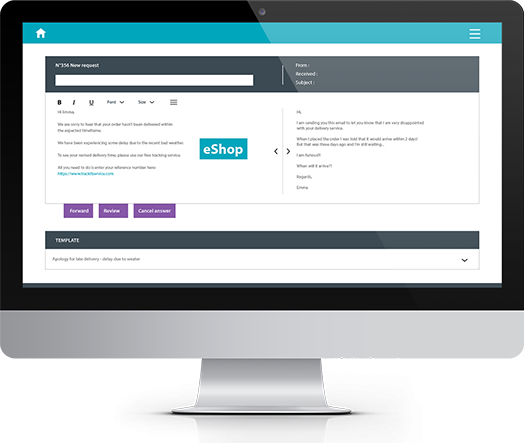 Automatic Answer Suggestions
Using AI, Eptica scans the customer's message and automatically suggests the best answers.
Flexible workflow
Agents have full ability to reply, forward or transfer customer's messages.
Valuable insight into agent activities
Agent activities and their use of the knowledge base are recorded, providing useful insight into the activity of your staff and the queries they are handling.
Advanced Intelligent Routing
Use linguistics to understand the customer's message and tone to ensure it is prioritized and reaches the right agent.
Response Branding and Personalization
Automatically add branding to all outbound messages along with both the customer's details and agent's name.
Comprehensive Interaction History
Provide your agents with the customer's past service history, their other queries waiting to be processed and a summary of the customer's specific needs and interests.
Eptica transforms digital customer conversations worldwide.
Channel Choice Best Practice Guide
What channels do customers want to use, and when?
See key findings from our survey...
Download
Putting the human at the heart of digital CX

The real revolution:
the end of boundaries between
the physical and digital worlds
Open
Would you like to know more? Contact us now.