4 Christmas customer service lessons from Santa
Published on:
December 18, 2019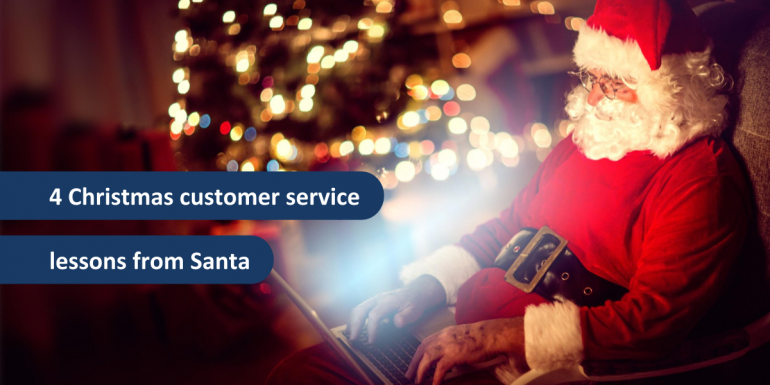 Christmas is nearly upon us and children all around the world are eagerly awaiting the sound of sleigh bells and the arrival of Father Christmas with his sacks of presents.
At the same time, it is the busiest time of year for many customer service teams as they work non-stop to respond to consumer queries. Unlike Santa's elves, their work won't stop on Christmas Eve - questions on how to set up new technology and toys are bound to crop up on the big day itself, never mind enquiries about returns and sales.
As in previous years, now is a good time to highlight some of the strengths of Santa when it comes to delivering customer experience:

1. First Contact Resolution
With a packed schedule, the man in red doesn't have time to get things wrong. Which is why he prides himself on scoring 100% on First Contact (or should that be Chimney) Resolution, delivering the right presents to the right children at the right time. While not every customer service team can match his efforts - unless perhaps they decide to employ a team of reindeer - striving to solve queries at the first time of asking should always be the aim.

2. Understanding
Santa has been around for hundreds of years, which means he's seen multiple generations of children grow up, with an ever-changing list of requests for the latest toys. And he's pretty much nailed it every time, keeping up to date with the must-have presents around the world. How has he achieved this? By listening to what children want (albeit through the low tech medium of Christmas lists), being prepared and a healthy dose of magic. The lesson here is very much about listening if you want to deliver the right experience.

3. High satisfaction scores
We won't go into whether Father Christmas relies on NPS, CSAT or another metric to measure his success, but it is fair to say that he scores highly when it comes to satisfaction. Even if on the day itself some children aren't as grateful as they probably should be! High satisfaction scores lead to greater engagement, continued belief and repeat business next Christmas.

4. Clear channel strategy
It may not be multichannel, but Santa has a formidable marketing machine behind him to highlight how you get in touch with him (letter/visit to grotto), what the criteria are for service (being nice, rather than naughty), what you need to provide (mince pie, carrot for reindeer and potentially a nice glass of whisky), and how you can expect your interaction to be completed (present via chimney). No child can claim they don't know the process - brands should aim to be equally clear when talking to consumers, though agents probably shouldn't (have to) beg for food or drink.

The key message around Father Christmas and all his activities is really about trust. Children everywhere trust that he will listen to them and deliver on their needs. This drives engagement and renewed belief, and the same lessons apply to any brand. Focusing on building trust through your actions is crucial if you want to create a successful, long-term relationship with consumers.
As we reach the end of the year, we'd like to wish all our readers a Merry Christmas and a wonderful and Happy New Year! We'll be back in January with more insights on Customer Experience, Voice of the Customer and Customer Service - we look forward to seeing you then.
Categories:
Best Practice, News
You might also be interested in these posts: