4 ways of delivering blended multichannel customer experience
Published on:
September 18, 2018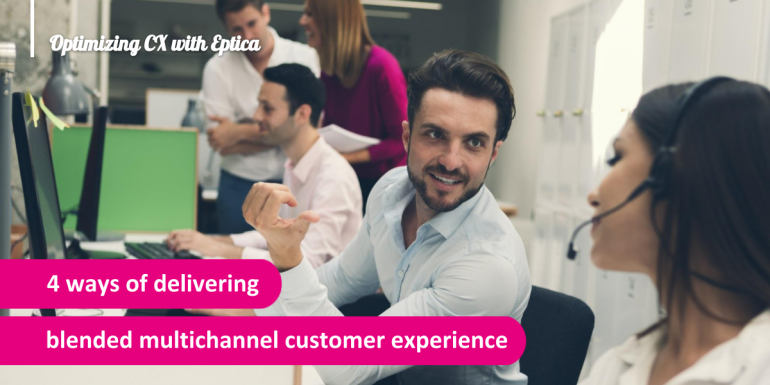 Optimizing CX with Eptica
We live in a multichannel world. Consumers want to be able to contact brands through their channel of choice, whether it is email, social media, chat or over the phone. However, this can be an issue as most contact centres began as telephone-based call centres, and have subsequently added channels one by one. Agents are assigned to specific channels, with many solely working on email or telephone, and not having access to customer data from interactions on other channels. This leads to inefficiency and hurts service levels as silos of information and processes stop customers receiving a fast, accurate and consistent response.
How can technology help overcome these issues? In this blog post, part of our series on optimizing CX with Eptica, we highlight four ways our technology can support a multichannel approach with blended agents. You can read previous posts on improving the agent experience and reducing Average Handling Time while safeguarding quality by clicking on the links.
1. Single view of customer interactions
Customer expectations around response times are continually growing. For example, Eptica research found that 48% of consumers want queries sent via Twitter to be answered within 30 minutes. This means that they often ask the same question on multiple channels or send messages chasing an answer, particularly if they don't receive an immediate response.
If brands take a channel by channel approach each of these interactions is treated separately, with agents not able to see the entire customer history across every channel. That means they will respond several times, reducing productivity and potentially confusing the customer. With Eptica agents are able to see a full, multichannel history of all customer conversations. For example, when an agent answers a call Eptica automatically displays a list of all emails from the customer, making it simple to view (and close) repeated questions. There is even the ability to mark multiple interactions as completed when responding, all through a single system, while telephone conversations can be logged for reply later via email.
2. Single source of knowledge
Channel-based silos also impact the quality and consistency of responses, potentially leading to customers receiving different answers on different channels. Clearly this is both inefficient and bad for the overall customer experience as consumers are not sure which answer is correct. Eptica's centralized knowledge base spans all channels, making it easy to access by agents responding to emails, telephone calls, social media messages and on chat, while also being available to consumers through web self-service systems and chatbots. By delivering a single version of the truth, brands can be confident that answers are consistent, while also making it simpler to update information centrally as it changes.
3. Supporting blended agents
If agents are only working on specific channels it can lead to variations in response times. For example, if the majority of agents are deployed to answer email, and there is then a spike in social media queries that overwhelms that team, email agents will not be able to shift across to help. Eptica helps you avoid these bottlenecks and gives agents confidence in three ways:
A single queue system that combines email and social media messages so that they can be answered by the same agents

A common user interface between channels to ensure agents are able to immediately switch without needing extensive retraining

AI-based analysis of all incoming interactions that automatically provides agents with relevant, template-based answers, reducing their workload and allowing them to focus on using their skills around empathy and personalization. That means that even if they are new to a channel, they have the information they need to respond quickly and accurately.
4. An open, interconnected platform
Contact centres have multiple systems in place, covering everything from planning to analytics. Connecting these to provide a total view across infrastructure is therefore vital to a better understanding and ensuring business performance. Eptica's open APIs make it straightforward to connect to other contact centre and enterprise systems, allowing data to be easily shared to ensure a joined-up, multichannel approach.
Breaking down silos and supporting blended agents is at the heart of success in a multichannel world. Eptica provides a single platform to underpin all of your customer experience needs, driving efficiency and improving customer satisfaction. To find out more about optimizing your Eptica system, simply contact your account manager, who'll be happy to put you in touch with our professional services team who can provide training and advice.
Categories:
Best Practice
You might also be interested in these posts: