5 customer experience lessons from the 2015 Holiday Shopping season
Published on:
January 08, 2016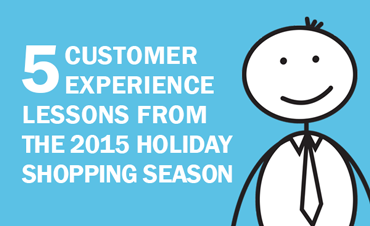 While the peak season for retailers isn't yet over, many companies are already taking stock and looking at their performance, as well as studying the wider trends that emerged in the run up to Christmas 2015.
The positive news is that overall spending in the US was up by nearly 8%, according to figures from MasterCard. However, not every retailer will have felt the benefit, as consumers focused on those that provided the right combination of customer service, price and stock availability.
Looking through the results and statistics published so far, there are five key lessons that retailers can learn from 2015.
1. The Christmas season is continually extending
In the past the Black Friday/Cyber Monday period provided one of the main peaks for shopping. With over $4.45 billion spent online on Thanksgiving and Black Friday many consumers still took advantage of big discounts, but others opted to leave their shopping until later. Indeed, 21% of Americans said they'd not done any of their present buying by the end of November. New peaks are emerging, such as around Free Shipping Day (December 18), which saw spending up 21.5% to $1.48 billion, according to Adobe. In total, online sales grew by 20% between Black Friday and Christmas Eve. And consumers looking to bag a bargain spent $600m on Christmas Day purchases, while ecommerce traffic was up 28% year on year on New Year's Day. All of this shows that retailers need to ensure they are delivering the right service and experience throughout the holiday season, rather than just on traditional peaks.
2. Online is critical to research and buying
Not only were ecommerce revenues up, but consumers are increasingly using the web and social media to research their present buying. Nearly half of all purchases were made online, while MasterCard found that 80% of consumers used the internet as part of the overall shopping experience.
This means that retailers need to focus on ensuring that they provide all the information a customer needs online to quickly make a buying decision, whatever device they are using. Fail to answer their queries adequately and it is likely that they'll simply move elsewhere. So the experience has to be seamless and incorporate self-service systems that provide fast, accurate, and consistent replies to questions.
3. A very mobile Christmas
More and more shopping revolves around smartphones, which are increasingly central to both research and purchasing. 33% of shoppers bought using their smartphones over the Thanksgiving/Black Friday period, with sales up 70% from 2014. 86% of consumers say they discover new brands or products using their mobile device, while Deloitte estimates that mobile influenced over 1 trillion dollars in sales in 2014. Ensuring that the mobile experience is simple, straightforward and easy to navigate is therefore crucial to retailers – as is the ability to join it up seamlessly with other channels.
4. Delivery pains grow
Ordering online is obviously only one part of any purchase – retailers need to deliver quickly and successfully if they are to retain customers. While much of this relies on third party logistics companies, consumers don't care – if things go wrong, the retailer will get the blame. The bad news for many is that average order to delivery times were 20% slower than 2014, according to Kurt Salmon, although some standout performers were much faster. 60% of Buy Online, Pick Up in Store (BOPUS)/Click and Collect transactions suffered from some sort of error or mistake, showing the stress that retailers are under. The increase in ecommerce, and issues with the weather, also seemed to catch many carriers out, with 60 million parcels delivered on Christmas Eve – and FedEx even dropping off packages on Christmas Day – after Santa Claus had made his rounds.
5. Returns handling needs work
A by-product of more online sales is an increasing number of returned items. This is particularly true in sectors such as apparel, where it can be difficult to judge sizes or styles from online photos and product descriptions. More than $20 billion of merchandise bought online in November and December is expected to be returned, with UPS handling 1 million items on January 6 alone. Again, making the process as simple and fast as possible is vital – both to retain customer goodwill and to ensure that returned stock can be sold quickly to other consumers. Providing clear, online information on things such as last return dates, the procedure for sending items back and enabling self-service will speed up the process, increase efficiency and reduce calls and emails to the customer service team.
Retailers don't have much time between the end of the 2015 holiday season and beginning to prepare for 2016. Now is the time to review systems and processes, particularly those related to the customer experience and learn the lessons of 2015, ready for the next peak.
Categories:
Best Practice
You might also be interested in these posts: