5 tips for managing the increasing volume of customer queries
Published on:
July 10, 2019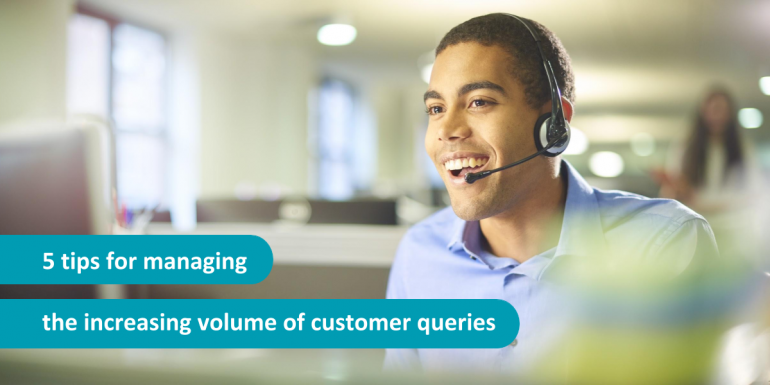 UK brands find themselves responding to around 463.5 million contacts every month according to Eptica's calculations. We found that 88% of consumers said they now contact companies more or as often as five years ago, with 16% getting in touch over twice as much.

At the same time, consumers are demanding better, more detailed answers from brands or, they say, they'll move to rivals. 91% of respondents to our survey said they are annoyed and less loyal when a brand fails to answer questions to their satisfaction.
The huge explosion in the volume of incoming contacts across a growing number of channels eats up resources and puts pressure on customer service teams. So here are five suggestions to help you reduce the number of incoming contacts and ensure your customer service agents are not overwhelmed:
1. Deflect with self-service
83% of consumers are happy to use self-service and 64% are fine with using chatbots to ask questions. So implement intelligent self-service on your website to deflect the everyday or routine queries that lots of people ask, time and time again.
With this tactic everyone benefits. Consumers can ask questions in their own words and receive fast accurate, clear answers without ever needing to pick up the phone, send an email or use social media to make contact. And as a brand, you make efficiency gains while freeing up agents to handle more complex queries that require greater human intervention.
2. Empower your agents
Give your agents the tools to do their jobs effectively and quickly and they'll feel empowered, happier and more engaged when interacting with customers. Examples of how to achieve this include:
Providing access to a centralized knowledge base that is constantly updated with the latest information so staff can quickly and confidently find the answers they need to respond to customers, whether over the phone or on digital channels.
Using technology to analyze incoming queries and automatically route them to the agents who have the best knowledge and expertise to solve them, speeding up responses
Deploy AI to analyze the tone of customers' digital communications in order to prioritize the most pressing and to better understand them. This helps prepare agents so that they engage more effectively with the customers who sent them, such as by flagging anger or disappointment.

Remember that many customer service interactions – especially about complex problems - call for agents to be able to empathize with the customer quickly, providing reassurance and support. Therefore, using technology will help you free up agent time so they can focus more on queries that require these human skills through more in-depth conversations that build trust.
3. Use feedback to drive change
A further way to lower incoming query volumes without impacting satisfaction is to identify the issues or points in the customer journey that trigger recurring questions or queries. If you can adapt or improve those areas, it's a smart way to reduce the number of questions at source. For example, if consumers are consistently asking questions at checkout around delivery times, there's obviously a need to make this information more visible and up-front.
A good way to identify these problem trigger points is to analyze customer interactions and feedback and then using this Voice of the Customer insight to drive real change.
4. Avoid them having to ask questions at all
What if you could predict the typical queries that people will ask at various points in the customer journey? It's possible. Develop an in-depth understanding of the customer journey and identify the typical information customers will need at each stage – and automatically provide contextualized information, for example using on-screen help or through a chatbot. This makes the self-service process even easier as customers get relevant answers without even having to ask.
5. Weed out the duplicates
Consumers are increasingly impatient. If a brand doesn't provide a quick reply to their question, they might email again or try and ask the same question again via Twitter or Facebook. The result is that customer service teams are deluged with duplicate queries, which eat up time and resources.
To avoid this you need to keep customers informed and up to date. Respond to their initial message letting them know a realistic timeframe in which they can expect an answer. However, too few companies do this. The Eptica Digital Consumer Trust Study found that under half (46%) of brands send an email acknowledgement to confirm they have received a message - and just 28% give an expected time of reply. Not doing these simple things forces customers to make contact again, increasing workload rather than reducing it. In research, 23% of consumers said they would make contact again on the same channel if they didn't get a fast response to their question, with 30% switching to more expensive channels such as the phone.
Consumers today have a huge range of channels that they want to use to contact brands - and they want more detailed answers than ever before. So it's no surprise that the number of contacts is on the rise. The key to managing this is to use innovative technology, smart planning and well-trained staff, to make the most of the resources at your disposal, delivering the right customer experience, time after time.
Categories:
Best Practice, AI
You might also be interested in these posts: