5 tips to transform your social customer service
Published on:
February 21, 2018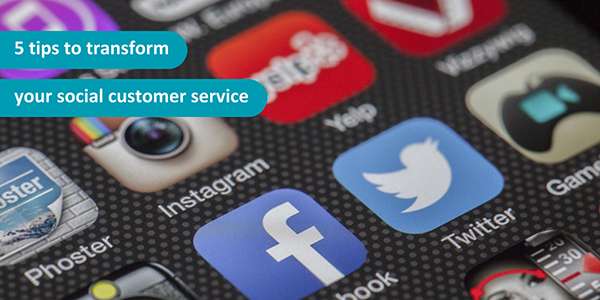 Consumers are spending more and more of their time on social media networks, with the likes of Twitter and Facebook now vital sources of news, information as well as places to interact with friends, families and brands. That makes social customer service a major, growing part of every brand's customer experience. Research from Deloitte estimates that social interactions will rise from 4% to 9% of contact center workload between 2017 and 2019.
However, that doesn't tell the complete story, because of the public nature of social media, failing to respond quickly and/or effectively can cause enormous damage to brands and their reputations. Essentially it has become a key component of marketing – if consumers see negative opinions and unanswered questions on social media, particularly from their family and friends, their view of that brand is likely to drop and even lead to them switching to rivals.
Consumers understand this – 46% of people said they'd given their opinion about a brand on social media, with dishonesty and bad customer service the top two reasons for complaining. No wonder that 81% of consumers believe social media has increased accountability for brands. There is a positive side to this, if companies respond well and successfully answer a complaint just 6% say they will continue to boycott them.
Responding well is not enough – consumers value speed and aren't willing to wait. After all, it only takes a few seconds to write a tweet or post a message, so they expect similar promptness from the brand on the other end. 44% of consumers surveyed by Eptica wanted their Facebook query answered in 30 minutes, yet real-world testing found that the average response time from UK brands was 3 hours 25 minutes. Many were much slower - one company took over 6 days to answer a tweet!
All of these factors demonstrate that social customer service needs to be taken seriously. So, how can companies achieve this, particularly given the specific requirements of the channel? Here are five tips to help:

1. Resource it effectively
It goes without saying that brands need to ensure that they have sufficient resources in place to respond to consumers within the timeframes that they demand. And then they need to go beyond this – social media is a 24 hour a day channel, so you need to decide how you are going to handle messages that come in outside traditional office hours, particularly if you operate across multiple time zones. See how you can share resources between regions in order to cover any gaps in service.
2. Train agents with the right skills
Just because we all use social media in our daily lives, this doesn't mean that all your agents are necessarily ready to answer queries on Twitter and Facebook. Social media is a key marketing channel, meaning the language and tone of responses should match your brand guidelines and support how you want to be seen. For example, how formal/informal do you want to be? Do you want to encourage the use of humor where appropriate? Agents need to be trained in all of these points – and also bear in mind that some will be more natural and comfortable on social media than others. Pick the best people for the job, rather than simply assigning every agent to the role.
3. Use technology to support your agents
As we've said before, the number of queries brands receive on social media is potentially enormous – Twitter believes that over 4.5 million customer service tweets are sent every month. Maximizing efficiency while answering tweets successfully and meeting customer needs is therefore vital. Technology can help – for example, you can use artificial intelligence (AI) powered solutions to understand customer questions and automatically suggest relevant answers that agents can then personalize and send. This speeds up the process and increases consistency for brands.
4. Integrate with other channels
Consumers today move between channels dependent on their particular needs. They might begin by emailing you and then move to social media if they don't get a response quickly enough. Therefore, ensure that you have an integrated approach and can see previous contacts across every channel – this joined up approach will help you break down internal silos and improve the overall experience.
5. Back up with knowledge
It is vital that the answers you give on social media are consistent with those provided through other channels. This isn't always easy – the 2017 Eptica Multichannel Study found that just 17% of brands were consistent on two or more channels. Create a centralized knowledge base and use this to power answers on every channel. Remember, while responses on social media are necessarily shorter than email or the web, they should still share the same key points.
Successful social customer service goes far beyond simply responding to customer queries. It has an enormous impact on your brand and how your audiences perceive you as a business. So, ensure you have a strategy to make it central to your operations and devote the right resources to Twitter and Facebook if you want to safeguard your brand and truly, meaningfully, engage with your customers.
Categories:
Best Practice, Product
You might also be interested in these posts: