5 ways CEOs can build truly customer-centric organizations
Published on:
October 24, 2019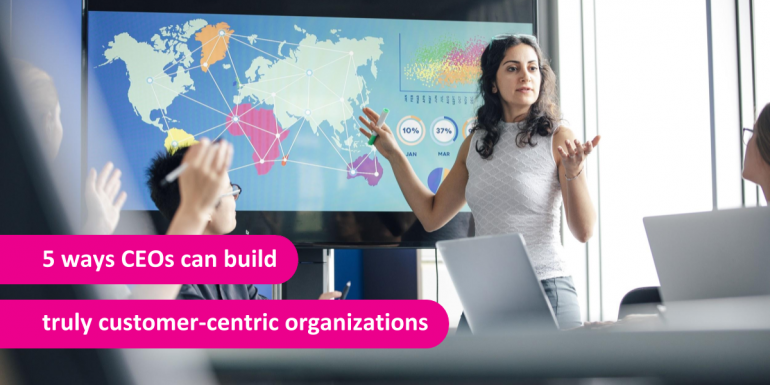 Businesses today are operating in a fast-changing world. They face greater competition than ever before and need to innovate to successfully embrace digital technologies. Beyond this, however, they have to transform to meet the changing expectations of their stakeholders, whether these are customers, employees or the wider community.
Demonstrating this need, the Business Roundtable, made up of leading US CEOs, recently redefined the purpose of the corporation. The number one commitment was to Deliver Value to Customers, followed by Investing in Employees – both ahead of focusing on short-term shareholder returns.
Putting the customer first requires a radical shift in many businesses, with a change in strategy, culture and how they are organized. Therefore it needs to be led from the top, with the CEO demonstrating the importance of being customer-centric and encouraging the entire business to move in the same direction.
The benefits are tangible – brands that transform customer experience see greater revenues, lower costs and more committed and productive employees. Research by Bain found that increasing customer retention rates by 5% can grow profits by 25-35%. Forrester analyst Harley Manning found that companies with higher CX scores outperformed their rivals in the same industry when it came to revenue growth.
So how can CEOs create a customer-centric business? Clearly, they need to go beyond paying lip service to the concept, but where should they start? These five points should help guide their strategy:
1. Understand and map the customer journey
Customer interactions with a business don't happen in isolation, they are part of an ongoing journey. And while every one of these touchpoints contributes to overall customer satisfaction, CEOs need to take a holistic view of the entire end-to-end journey to drive real results. Analysis by McKinsey of a European telecoms operator's onboarding process backs this up. It found that while customers were happy with individual touchpoints, they scored the overall process at just 40%. Why? They found the entire journey simply too complex and time-consuming.
For that reason, mapping the customer journey is the first step to removing obstacles that damage the overall experience. CEOs need to listen to their employees, and above all their customers, to understand what they want to achieve to ensure that they are delivering it to them.
2. Collaborate across the business
Traditionally businesses have been organized departmentally, with limited interactions between each team. This structure no longer fits with a customer-centric mindset. CEOs need to break down silos and help employees collaborate across the customer journey.
Essentially consumers don't want to be told that "I can't help as that's not my department", or be forwarded around the organization, continually repeating themselves. They rightly expect to receive seamless service, whoever they interact with. Some brands have created this collaboration through customer hubs, which bring together cross-functional teams to solve specific issues, while others have extended technology so that all customer-facing staff have access to the same knowledge to answer incoming queries.
3. Encourage empathy
In a digital-first world, the brands that stand out are those that engage with their customers and demonstrate that they understand their needs, and have their best interests at heart. This relies on all of your people possessing and using empathy when interacting with customers. While this is relatively easy in face-to-face and even telephone conversations, it is much more difficult when it comes to digital channels such as email, chat and social media. Customer service agents may find it hard to know if a consumer is angry, happy or upset as they don't have access to verbal or visual clues. Overcoming this gap is vital. As well as encouraging staff to put themselves in the customer's shoes and respond accordingly, brands can use technology such as Natural Language Processing to automatically analyze incoming interactions and provide guidance on the tone and feelings within them. This allows staff to respond accordingly, deepening understanding and engagement.
4. Listen continuously and act on the insight
Customer experience improvement is an ongoing process. Consumer expectations are continuously rising so to meet them you need to be listening constantly and acting on this intelligence. What do customers actually want – and how can you deliver it to them? Being able to improve starts with effective listening. However, many organizations still rely on survey-based Voice of the Customer (VoC) programs, rather than taking a more holistic view. Analyze all the interactions you have with your customers in order to get an in-depth understanding that can drive change at a micro and macro level. For example, by analyzing incoming digital interactions you could highlight areas for improvement or factors that are causing customers to leave. Share this data in real-time across the organization to fix both individual issues and wider problems. This not only improves the customer experience but also increases efficiency by showing where processes can be changed, reducing costs.
5. Focus on constant innovation
As we've said, customer expectations are continually rising – what was seen as superior service quickly becomes the norm. That means brands need to constantly reinvent the experience they deliver if they want to compete. Bear in mind that consumers don't differentiate between brands in different industries – they expect the same experience whether dealing with an online retailer, an insurance company or a government agency. Therefore benchmark yourself against recognized customer experience leaders, whatever their sector, and see what lessons you can learn and put into practice within your own organization.
Customer experience is central to business competitiveness and success. Given its vital importance, it has to be led from the top, with CEOs setting strategy, driving cultural change and ensuring it is a continual process of improvement. Only by becoming truly customer-centric will businesses build trust and ongoing relationships with consumers, now and in the future.
Categories:
Best Practice, Trends & Markets
You might also be interested in these posts: