5 ways to get your email customer service ready for 2018
Published on:
January 17, 2018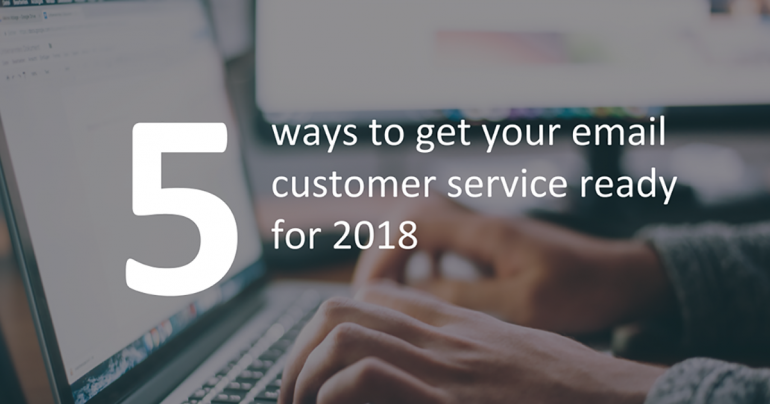 Despite the rise of new channels such as social media, email is still the number one digital channel for customer service. According to analysts Contact Babel, email makes up an average of 20.5% of incoming interactions to customer service teams, well ahead of social media and chat. Plus these figures are growing – 82% of British consumers researched in 2017 say email is their most popular online activity, up 3% from the year before.
Given email's importance, it is vital that organizations are able to respond quickly, accurately, and above all efficiently, in order to meet customer needs and deliver the experience that consumers are looking for. Our own research at Eptica highlights the scale of the challenge too, for example, while 65% of companies surveyed offered email, only 40% provided an accurate answer to routine queries. That means 25% of emails are either receiving no answer at all or are being responded to, but with incorrect information.
As we move into 2018, how can businesses ensure that their email customer service is optimized? There are five key areas to focus on:
1. Automate what you can
With the number of emails rising for many organizations, often without a corresponding increase in resources, automation enables you to be more efficient. For example, look at sending an acknowledgement automatically when a customer email is received, so that they know that their query has been received and will be handled. Automate the answer process as much as possible as well - use Natural Language Processing (NLP) to analyze emails and to suggest relevant template answers that agents can then personalize for more common queries. This should free up agent time, enabling them to build a more human relationship with the customer, ensuring consistency and high quality responses.

2. Arm your agents with knowledge
One of the key complaints of customers is receiving inconsistent or inaccurate responses to their questions. This forces them to make contact again, causing annoyance and pushing up email volumes and costs. Give your agents access to a single, centralized knowledge base where they can find answers to queries quickly . This should push up First Contact Resolution rates and ensure consistency of answers, regardless of which agent handles email. Bear in mind that knowledge is always evolving, so make sure that your knowledge base is easy to update and that it involves frontline agents – let them flag gaps and suggest responses that can be shared across the team.
3. Build empathy
One of the issues with digital channels such as email is that it is difficult to build a relationship with the customer – you don't have the context of a spoken or face-to-face conversation to help understand whether a customer is angry, happy or simply joking. To overcome this, use AI and NLP to analyze incoming queries in order to provide agents with vital clues to what the customer is actually asking. This information boosts agent understanding and helps them build empathy and get responses right first
time.

4. Integrate the process with other channels
Most customers today switch between channels during a transaction – they might start by visiting your website on their smartphone, switch to web chat via a desktop PC and then send an email from their tablet. It is therefore vital that email is integrated with all other channels so that agents responding have the full context of the conversation and know what information has already been supplied, so that they can answer accordingly. Integrating channels, such as through a single customer
service software solution, also drives efficiency and better reporting as all interactions are in a single place, bringing down costs and giving a holistic picture.
5. Continually improve
Customer demands are ever-increasing – they continually expect faster, more detailed responses from companies, on a wider range of topics. That means organizations need to be focused on improving the service they provide all the time. Failing to do this means consumers will simply switch to the competition. Therefore, ensure that you are learning from the questions your customers ask on email. Analyze these to see where you can improve how you operate and fill any gaps you have on your website, for example.
In today's multichannel world, it is easy to overlook the importance of email to customer service, but it is a growing, vital channel that brands need to focus on if they wish to thrive. Use technology wisely to support your agents and you'll increase efficiency and satisfaction and build long-term customer relationships that grow your business in 2018 and beyond.
Categories:
AI, Best Practice
You might also be interested in these posts: