5 ways training can transform your customer service
Published on:
June 19, 2019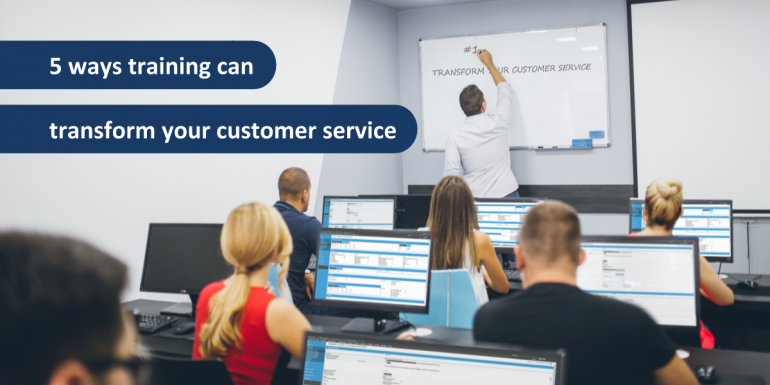 Customer service and customer experience need to be constantly improving in order to meet rising customer expectations. For example, two-thirds of consumers say the questions they ask brands are now more detailed than they were 5 years ago. 91% of them say it annoys them when they don't get satisfactory answers. On top of this, customers are becoming more impatient and expect faster service, across a wider mix of channels, than ever before.
Ensuring you deliver on these requirements is tough. Especially as 88% of consumers say they contact brands more often than they did 5 years ago. Everyone in the organization, particularly the contact center, needs to be always operating at 100%. This isn't always easy, especially when you consider the high staff turnover rates, (up to 26%), experienced by many contact centers.
This all makes staff training key, particularly when it comes to the software tools that empower agents to deliver effective and efficient service. Ideally, you want to make sure everyone is well trained and ready to go, particularly in the run-up to peak.
As an experienced supplier of CX solutions, Eptica works closely with clients to ensure they get the best from its powerful solutions. We offer a wide range of on-site, classroom and remote training sessions - here are 5 ways that they can benefit your business:
1. Refreshing trainers
Most organizations work on a "train the trainer" system with experienced staff coaching and passing on their knowledge and skills to new recruits and juniors. However, given the high average on staff turnover rates in the call center industry, valuable knowledge and expertise can be lost when experienced workers leave. Therefore you need to ensure you regularly run training sessions, to help create a whole new set of refreshed trainers that can share the benefits across the organization. Regular training is also important because software applications – especially if they are SaaS systems such as Eptica – are being updated continually with new features and processes.
2. Breaking bad habits
People are creatures of habit, particularly when they're busy. That means agents may continue to use the same processes and procedures routinely, even when they aren't always the most efficient. They may even know that what they're doing isn't the best approach but simply don't have the time or knowledge to change. Training can be important for reinforcing best practice and helping staff break bad habits. Moreover, in this way it can improve productivity and efficiency - and ultimately enhance people's working lives.
3. Bringing temporary staff up to speed
Peak sees retail companies take on huge numbers of
temporary and seasonal workers
– and the same goes for other sectors at their busiest times. Training helps bring staff up to speed, so they feel empowered with all the skills they need to take on the Christmas rush (or any other seasonal peak), helping to ensure consistently high levels of service.
4. Understanding your customers better
You need to be constantly looking for ways to improve customer service and experience, and Eptica comes with
powerful analysis and reporting
to help pinpoint ways to improve, both on an individual and company-wide level.
By reviewing how agents use Eptica and the questions
they
ask
the
knowledge
base
, training needs can be identified, enabling staff to become more effective. On a wider level, you can see how to improve and deflect enquiries by analyzing the most popular customer queries. If there's a spike in queries at particular parts of the customer journey, you can look at providing additional staff training to improve how that process is handled. Or you can
re-engineer it to make it simpler
. Alternatively, if the analysis shows high levels of routine queries being asked, you can redirect customers to intelligent self-service systems. This reduces query volumes, improves the customer experience and frees up agents for more complex interactions with consumers.
5. Learning new tips and tricks
As well as breaking bad habits, training can help teach end users
how to be more efficient
. For example, Eptica has a powerful bulk reply functionality that can help save agents' time. In fact, there are five key areas where Eptica can assist agents and help bring down Average Hold Times for customers:
It can use AI to analyze incoming messages, such as emails, and automatically provide the best template from your Eptica knowledge base to answer the particular query.
It provides filters to identify and select all incoming requests that require the same response. Agents will be able to select and send the best-templated response to all of them 'in one go', and Eptica will send the responses as individual messages, personalized by name.
It can automatically assign the oldest incoming customer query to the next available agent with the skills and knowledge to answer it. This reduces agent time spent scrolling down the queue, lessens backlogs and improves hold times.
With many customers often sending several follow-up queries about the same issue, Eptica can identify all open requests from the same customer - allowing agents to answer and close them as a single interaction. This removes the possibility of two agents responding to the same person.
It lets agents forward complex customer queries to subject experts in a different department while at the same time they are responding to the consumer to let them know this is happening.
All of these tips and more can be spread across the organization through training, delivering an improved experience and greater efficiency.
Peak always seems to come round faster than we think. Now is the time to get your training strategy in place for the busiest time of the retail year. Contact Eptica now to book your training session.
Categories:
Product, Best Practice
You might also be interested in these posts: