The 6 key challenges to successful self-service – and how to overcome them
Published on:
February 06, 2018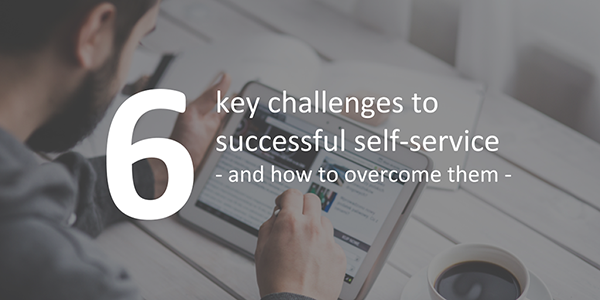 Today's connected consumers have high expectations of the brands they deal with. In particular, they want them to value their time – and that means providing fast access to information, through their channel of choice.
They don't want to have to contact you to find out basic information that should be simple to find on your website – a Forrester study found that over half (53%) of US adults are likely to abandon an online purchase if they can't find a quick answer to their question. Eptica research backs this up – 46% of consumers said they'd spend just 5 minutes searching for information on a company website before giving up and going elsewhere.
No wonder that both consumers and companies are turning to online self-service systems. These make it easy for consumers to ask questions and find answers to their queries – without having to make contact with the company through other channels. Self-service also brings efficiency savings to brands - the average cost of a live service interaction (phone, email, or web chat) is more than $7 for a B2C company and over $13 for a B2B company. In contrast, the costs of each web self-service interaction is negligible, so deflecting calls and emails makes financial success and allows agents to focus on more complex queries.
However, despite these advantages, many websites are still failing to deliver the answers that consumers are looking for – even if they have installed self-service systems. Research by Eptica with 100 top UK brands found that they could answer 67% of routine questions on their website, but that this masked serious differences in performance. For example, banks scored 82% as a sector, while entertainment retailers answered an average of 49%.
Why are some brands pulling ahead when it comes to self-service and others lagging behind? There are six key areas to focus on:
1. Lack of understanding
Consumers ask questions in lots of different ways, which means you need to be able to understand the meaning of their query if you are to successfully answer it. You can't force them to use your terms or product names. Therefore, ensure that your self-service is able to analyze customer queries using AI techniques such as Natural Language Processing (NLP) to get to the real meaning of what consumers are asking. It can then automatically provide them with the most relevant answer. More basic keyword matches lack this intelligence and normally provide a large number of responses, the vast majority of which are irrelevant.
2. Join up your channels
Self-service is just part of the customer journey – after receiving an answer, they may have more complex or personal queries that they want to discuss through other channels such as email, chat or the phone. You must therefore join-up self-service so that it is easy for consumers to continue their conversation, and ensure that any agents involved have a full history of the information the consumer has received to date, to prevent them needing to repeat themselves by asking the same questions again.
3. Keep knowledge up to date
Information goes out of date very quickly – which means you need to keep the knowledge base behind your self-service system continually updated. That means adding new material as new products and services are launched or around particular times of the year. Give someone the role of knowledge manager to ensure that updates are planned and any areas where information is lacking are quickly filled.
4. Make it easy for the customer
By using AI and NLP you can even avoid your customers having to ask questions at all. Understand where the customer is on their journey and automatically provide the answers to the top 5 most asked questions, based on this context. This will ensure they receive relevant information, exactly when they need it on the customer journey.
5. Learn from your users
Keeping the self-service knowledge base up to date also means learning from your users. Collect feedback from consumers on whether the answer provided was relevant or could be improved – this helps the system to learn and improve itself automatically. Analyze the questions that you receive through other channels – could adding new answers to your knowledge base remove the need for consumers to call or email?
6. Use questions to drive improvementsAnalyzing the questions that people ask also gives invaluable insight into the Voice of the Customer. Use this information to improve the products and services you provide. It could be as simple as making a section of your website clearer, or as major as using feedback to launch new products.
Self-service systems potentially deliver enormous benefits to both consumers and brands. However, to gain real competitive advantage companies need to implement the right technology to better understand consumers and focus on continual improvement if they are to gain lasting advantages.
Visit our product page to find out how Eptica's self-service systems could help your organization transform the customer experience.
Categories:
Best Practice, Product
You might also be interested in these posts: