The 7 components of superior self-service systems
Published on:
June 14, 2016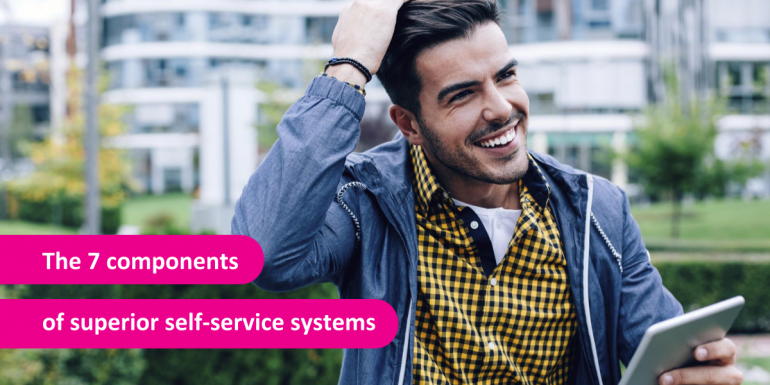 We live in a world where time is of the essence, and everyone is trying to cram more and more into their lives. This has a major impact on the customer experience – consumers increasingly choose companies that value their time and minimize the effort they need to put in when making a purchase or finding out information. For example, online consumers don't want to break off from what they are doing to pick up the phone or send an email when they have a query. They want to be able to find an accurate answer to their question quickly, so that they can complete a transaction seamlessly without breaking their journey.
Analyst research backs this up. 73% of consumers say that valuing their time is the most important part of good customer service, according to Forrester and over half (53%) of respondents said they'd abandon an online purchase if they couldn't find a fast answer to their query. Essentially companies are risking a huge chunk of their online revenues if they can't deliver the right information to customers.
At the same time organizations are facing a dramatic increase in the number of customer contacts they receive, across an expanding range of channels. This is putting a major strain on the resources within customer service departments and can lead to lengthening response times, upset customers, lost revenues and rising costs.
Self-service systems provide the answer. By making it easy for customers to find answers to their questions online, or via mobile apps, companies can reduce the effort and time that consumers need to put in, boosting engagement and sales. No wonder that Forrester's research found that more people now use web self-service than the telephone to contact companies, with usage increasing from 67 percent of respondents in 2012 to 76 percent in 2014.
At the same time efficiency is improved as customers that find answers online don't need to call or email the contact center, reducing workloads and ensuring that response times are shorter. On average the number of calls to the contact center fall by over 30%, and emails by more than 50%. For companies looking at the benefits of web self-service there are seven key factors to look at when picking the right technology to meet their needs:
1. Centralized knowledge base
At their heart successful web self-service systems need a powerful, self-learning knowledge base. By using linguistic technology your knowledge base should be able to provide fast, accurate answers to customer queries while minimizing the time needed to manage it. By sharing the same knowledge base between the web and agents answering queries on other channels (such as the phone, email, social media and chat), companies can further benefit by ensuring consistency and faster responses across all channels.

2. Mobile friendly
Your self-service solution should be mobile-friendly, with the ability to integrate with mobile apps as well as your website, providing consumers with the choice they require when looking for answers.

3. Language capabilities
Consumers ask questions in a whole range of ways and using a wide variety of terms. They don't want to be forced to ask questions with specific phrases or through particular keywords. Using an intelligent web self-service system helps you understand their queries, however they are asked, in order to provide accurate answers. Multi-language self-service capabilities are also critical for companies working internationally or with different customer demographics, allowing them to provide answers in the customer's language of choice, all from the same knowledge base.

4. Ability to quickly add new content
Company information, such as products and services, goes out of date quickly. Therefore, ensure you have a self-service system that makes it easy to update content, with built-in sign-off of knowledge base articles to guarantee management oversight and approval.

5. Powerful reporting
Analyzing the questions that consumers ask via self-service gives deep insight into what is important to them, and can be used to make major improvements to your business. For example, if multiple customers are asking the same question about your checkout or payment page, it is likely to mean that the current layout is confusing them – fixing the issue will help increase engagement and sales.

6. Rating capabilities
We live in a rating economy, with consumers increasingly expecting the ability to give feedback on the customer experience. Engage consumers by giving them the option to rate self-service answers – and use this feedback to fine tune responses to ensure they continually improve and to identify gaps that need to be filled.

7. Integration to enable easy escalation of queries
Not every question can be answered through self-service – some are simply too complex or personal. Therefore, make sure that your system makes it simple to escalate from self-service to other channels, such as email, chat or the telephone at the click of a button. Customers hate having to repeat themselves, so ensure your system provides agents with a complete history of the customer interaction, increasing their ability to provide a more personalized and relevant answer.
Self-service delivers major benefits to both companies and their consumers – to find out more about how it can help your business watch Eptica's new video.
Categories:
Best Practice, Product
You might also be interested in these posts: