Building a strong customer-focused service culture
Published on:
February 21, 2017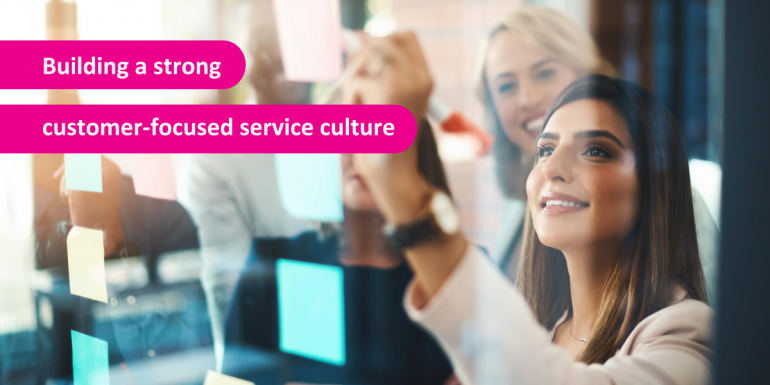 Customer service and customer experience now involve the entire organization, and to be successful companies have to build a strong culture that embraces the right systems, processes and technology to empower staff and ensuring they have meaningful, empathetic conversations with customers.
But how do you achieve this? Woo, Wow and Win, a recent book by Thomas Stewart and Patricia O'Connell gives some useful tips on where to start. Essentially, it recommends building a service culture based on 5 key principles:
1). Focus on the right customers for your brand
Today's customers want tailored and personalized experiences, so analyze your customer base and study customer interactions to pinpoint what your customers are looking for - and redesign how you operate to best meet their needs. All customers today want fast, accurate and comprehensive service, but increasingly they require more – they want to have meaningful conversations that engage them with the brand.
Therefore, make sure your training and incentives reflect the service behavior your customers are seeking. Use artificial intelligence to analyze the content and tone of incoming digital conversations to ensure that agents are empowered to deliver the right level of empathy. For example, an email that suggests that a customer is angry might go to the front of the queue, while someone with a specialist question can be automatically routed to an employee with specific knowledge to respond.
2). Gear your efforts towards meeting customer expectations
You need an intimate knowledge of what customers expect from talking to your company. Then you have to ensure you support employees in understanding and meeting these expectations. Technology is going to be key and this includes providing tools such as a centralized knowledge base to help staff address customer questions and problems in a consistent, systematic way. A self-learning knowledge base improves and grows over time, identifying which answers work best and integrating new questions that customers might be asking.
3). Make good customer interactions natural and easy
Today there is a growing focus on making your company easy to do business with - underlined by the adoption of metrics such as the Customer Effort Score (CES). In fact, research by McKinsey across 44 industries found that those companies who focus on minimizing customer effort saw revenue growth of between 10-15% and a 20% increase in customer satisfaction.
At the same time it's essential that your staff should find it easy to provide a good service to customers. The processes and systems that agents use have to be simple and intuitive – because the employees' user experience is critical to the customer experience.
A good example of this is warranty provider Domestic and General. It implemented a centralized knowledge management system to support 1,400 agents and involved them in the design, resulting in a simple, intuitive interface that made it easy to use. After it went live, First Contact Resolution rates increased, hold times halved and the time taken to train new agents decreased by 20%.
4). Service design must deliver a coherent experience across all channels and touchpoints
Everyone in your company must realize that they are now in customer service. If they ever find themselves interacting with a customer - regardless of their seniority or role in the organization - they have a responsibility to help deliver the experience you have promised. That is a big cultural shift for many organizations. You need to break down the silos and ensure that everyone in the company buys into the service culture.
There are 3 important considerations in this area:
Ensure that everyone who is likely to come into contact with customers has access to the centralized knowledge base that can give them the information to address customer queries
Extend your customer service workflow to include your knowledge experts so that they can be easily brought in when there are specialist or complex queries
Take a team-based approach to areas such as social media, working with PR and marketing staff to ensure that customer queries never get missed
5). The job is never complete
Customer expectations are always increasing – with customers more demanding now than ever before. For businesses standing still is not an option – fail to continually improve the customer experience and you will slip behind your rivals. Look at what they are doing – and also at what CX leaders in other fields are doing. Create a plan and strategy to continually improve using the following 7 stages:
Gather insight from customers
Identifying opportunities
Planning and collaboration
Implementation and testing
Monitoring
Improvement
Delivery
Consumers want to have effective, satisfying interactions with your brand, and that requires you to create a culture and infrastructure that supports this, including empowering employees with the information, tools and confidence to open and sustain an ongoing dialogue. Only then will you be able to woo, wow and win them.
Categories:
Best Practice, Artificial Intelligence, Trends & Markets, Product
You might also be interested in these posts: