Creating the customer service agents of the future
Published on:
October 23, 2018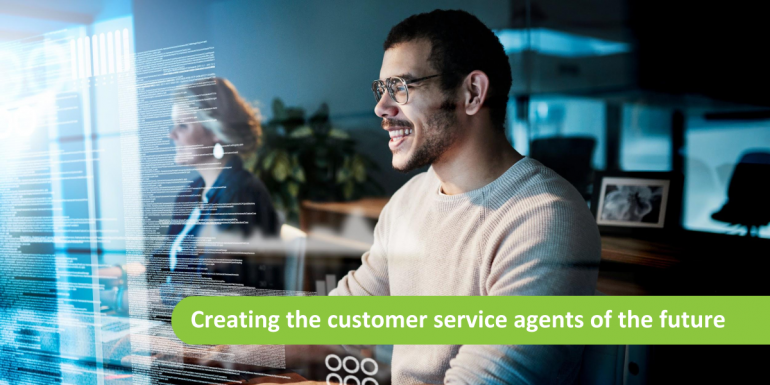 Customer service is changing dramatically, with the rise of artificial intelligence (AI) and automation leading more and more consumers to interact with brands through technologies such as self-service. In recent Eptica research, 83% of respondents said they were happy to use web self-service systems, while 54% wanted to get automated answers through intelligent voice assistants, such as Amazon's Alexa. No wonder that Gartner predicts that AI will disrupt the jobs of one million phone-based customer support agents by 2020.
However, while consumers are happy to embrace technology for routine queries where they want fast, simple answers, they still want to interact with human agents for more complex queries. For example, 77% want to chat with a human when they have less straightforward requests, according to the Eptica Chat Study. Delivering 'human-powered' service also benefits brands in these circumstances, enabling them to engage more deeply with customers in a true conversation that drives greater loyalty and brand advocacy.
So rather than the end of the agent, these emerging technologies are a new beginning – their role will change as they move away from routine queries to more complex ones. In fact, this means that the role of human agents is actually becoming more important, not less. However, the role will be very different, and will consequently require very different skills. What should brands, therefore, look for in the agent of the future? Here are four areas to focus on:
1. Empathy and understanding
Many customer service interactions are emotionally-based, and in these cases, most callers want and need, the reassurance and empathy that a human provides. Especially for more complex customer problems, there will be more of a need for agents to be able to quickly empathize with people, put themselves in the customer's shoes and build a rapport so they can understand their challenges and needs.
Building a connection with customers is extremely powerful because while customers don't remember the mundane details of an interaction with a brand, they do remember how you treat them at key moments in their journey. So, agents need to be able to put additional effort into making those moments positive and memorable by building a real rapport with consumers.
2. Take ownership
Consumers want to have a single conversation, with a single agent, to get what they are looking for. Agents need to be able to take ownership of a customer's problem and be empowered to find a solution, even if it means going beyond the contact center to speak to people in the wider company.
With agent roles changing, how they are measured also needs to change. Companies should be evaluating and rewarding agent performance less on basic productivity metrics (number of calls/emails per hour), and more in terms of the overall satisfaction that their actions drive. Many companies are already moving in this direction: for example, online shoe store Zappos has switched from focusing on measures such as call time and tickets opened to Net Promoter Scores (NPS) and Personal Service Levels (PSL) for each of their agents. Demonstrating how this works in practice, one of its representatives famously spent 10 hours and 29 minutes on a customer call discussing living in the Las Vegas area – which ended with the caller purchasing a pair of Ugg boots.
3. Be at ease with AI and multichannel
The old barriers between different channels are breaking down, so agents today need to be able to work across multiple channels to focus on the customer. They need to be able to see and understand all the interactions in a customer conversation, no matter what the channel, and to respond on the channel of choice. The old divide between typers (handling emails and social media) and talkers (on the phone) needs to change to become more fluid and seamless.
AI can help here in a number of ways, such as empowering agents by providing them with fast access to accurate, consistent knowledge through a centralized knowledge base; providing text analysis that helps better understand the tone and content within customer communications; and displaying templated answers based on consumer queries. Rather than being scared of losing their jobs to technology, agents need to embrace it to help them, augmenting their skills and enabling them to focus on human skills.
4. Focus on problem-solving
Every business has processes that need to be followed, but agents will need to balance this with putting the customer first – especially if they are more likely to be dealing with complex, 'harder to fix' problems. Brands will need to build problem-solving skills into their teams and give agents the freedom and flexibility to think out-of-the-box to come up with solutions to customer problems – even if they are not 'off the shelf'. Some companies are helping break down silos by creating customer hubs, that bring together staff from different departments, with different skills in a single team to work together on problems. A good example of this is T-Mobile, which is creating what it calls "Team of Experts", especially trained, local teams of human representatives that will provide help 24/7 to customers in cities around the US.
In future the role of agents will be more challenging, requiring them to learn and embrace new skills. But it will also be more fulfilling and interesting. Agents will need to be selected more for their human skills and be incentivized and given the tools to take ownership of customers' problems. They'll need to be allowed the freedom to use their initiative to come up with solutions and put the customer first. This will then benefit everyone – consumers, brands and agents themselves. The future of customer service will be a balance, and humans will have a key role in delivering the superior experience that consumers demand.
Categories:
AI, Best Practice, Artificial Intelligence
You might also be interested in these posts: