Customer service lessons from the hotel sector
Published on:
January 29, 2016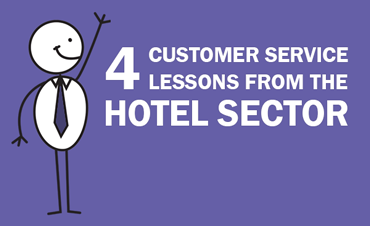 Since the days of coaching inns, providers of accommodation have had to focus on delivering the right customer experience to their guests. Constant competition and travelers sharing their feedback with those they encountered meant that inns could quickly gain a good reputation – or lose it just as swiftly if standards slipped.
Today, the customer experience is even more vital to staying in business for the hotel sector.Competition has increased – not just between hotels in the same location, but even those in different cities. And, of course, the opportunity for guests to share their experiences more widely through social media and review sites has skyrocketed. The service delivered by staff makes up a substantial part of this experience, meaning that no matter how luxurious (or otherwise) the surroundings, the whole stay often revolves around how staff behaved, their helpfulness and general engagement. We can all remember trips where good service made the stay memorable and would lead us to recommend the hotel to family and friends.
So, at a time when the customer experience is paramount in every industry, what can customer service teams learn from the hotel sector? I think it comes down to four areas:
1. Engage and be personal
What guests want from a stay varies widely and personalization is vital to service. Some of this is obvious – a family with children is likely to have very different needs to a business traveler. However, staff should take the time to understand each individual guest and provide appropriate help and information. It may not be so easy for customer service staff when dealing with consumers on digital channels, but it is possible to personalize the experience by arming agents with all the information on the customer and using technology such as linguistics to better understand the tone and content of their messages.
2. Work as a team
In the same way that a chain is only as strong as its weakest link, hotel service relies on teamwork, with different departments working together to meet the guest's needs. The same principle should be applied within the contact center – break down barriers between departmental silos and focus on how you can integrate across the customer journey. Nothing annoys a customer more than being passed from agent to agent, continually repeating themselves and not getting a solution to their issue.
3. Empower staff
To run smoothly and to deliver a consistent experience across multiple properties, time after time, hotels require a whole range of processes and procedures. Obviously they ensure that all employees are trained in these in order that they have everything they need to do their jobs. However, the world doesn't always follow procedures and even the best processes can go wrong. Therefore hotel staff members are empowered to use their judgment to solve minor issues quickly, without necessarily needing to speak to supervisors. Like hotel employees, customer service staff should be provided with access to the information and policies they need to do a good job, but also empowered to intervene and change small things that are affecting the customer experience. Collect feedback from frontline staff (and analyze digital conversations), to see what processes and information might need updating if circumstances change.
4. Remember the little things
What might seem trivial to you can make or break the experience for a customer or guest. That's why hotel personnel are trained to ensure that the details of a stay are perfect, from the right newspaper delivered to the door, to a surprise birthday cake in the restaurant. The same rules apply to customer service in other industries. For example, if someone says that they'll respond within 30 minutes then make sure that they do. If you are a cosmetics retailer and shipping neglect to include a free sample in a delivery then send it on separately. These details are what make the experience memorable and drive repeat business.
Nowadays, customers expect the same high levels of service whatever type of company they are dealing with, meaning that every organization should learn from good practice in sectors such as the hotel industry. That will help ensure your customers are satisfied, loyal, brand advocates, driving increased revenues and contributing to ongoing growth.
Categories:
Best Practice
You might also be interested in these posts: