Delivering the benefits of customer service outsourcing
Published on:
December 14, 2016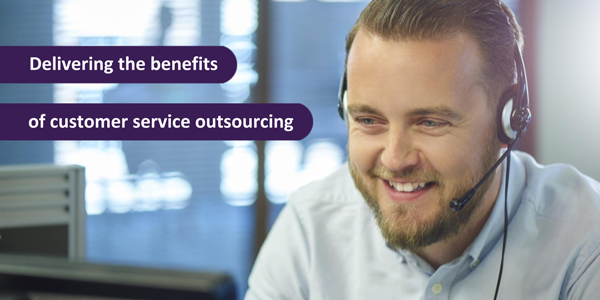 Whether it is to add capacity in specific areas, helping expansion into new markets or bringing down costs, outsourcing is a central part of customer service. According to the Everest Group, nearly a quarter of contact center activities across the globe are outsourced, meaning the market is worth $75-78 billion every year. The figure is continually growing – the value of contracts signed in the UK in the first three quarters of 2016 was up 80% year on year.
However, outsourcing requires companies to put the reputation of their brand in the hands of another company, meaning that the outsourcer needs to deliver consistent, high quality service, time after time. For the end customer it has to be a seamless experience, with no difference between talking to in-house or outsourced resources, irrespective of the channel. Successful outsourcers are therefore going beyond simple efficiency metrics, becoming a trusted partner that helps deliver improved business outcomes to their clients.
How can companies ensure that outsourcing customer service delivers the combination of value, skills and high standards that they are looking for? It comes down to four key factors
1. Knowledge
As Forrester analyst Kate Leggett has stated "Knowledge is the jewel in the crown of customer service." This particularly applies when it comes to outsourcing all or part of the customer contact process. Providing a single, centralized knowledge base, and sharing this between in-house and outsourced teams allows companies to deliver blended, consistent service across every channel. It ensures that customers get the answers they want and that the experience is seamless, fast and efficient. It also helps bring outsourced teams up to speed quickly as they don't need to build their own knowledge from scratch.
2. Supporting your agents
Some of the first experiments in outsourcing customer service, particularly to offshore destinations, were unpopular with consumers as the agents involved had no way of accessing customer details in order to help answer a query. This meant they had to ask lots of questions and were often unable to provide helpful responses quickly or consistently. For outsourcing to work agents need the support of a comprehensive, integrated platform that allows them to act as one of the team. As well as knowledge this means having the ability to view the customer journey and their interaction history so far and call on subject experts where necessary, all without slowing down the service the customer receives.
3. Ensure efficiency
Understanding what customers want can be difficult for all contact agents, particularly on digital channels such as email, social media and chat, which lack the context that telephone or face to face channels provide. Outsourcers can help bridge this gap by using linguistics to automatically analyze incoming interactions, identify the sentiment and suggest relevant answers, ready for the agent to personalize and send out. This boosts efficiency by increasing productivity, while also enhancing the customer experience as consumers receive faster, more relevant answers.
4. Consistent experience
Customers will be confused if they receive responses that seem to come from an outsourcer, rather than the brand that they thought they were dealing with. Companies therefore need to ensure that the experience provided by outsourcers matches their overall standards, tone of voice and operating procedures. Giving agents access to the same knowledge base helps here – it ensures that processes are followed by making it easy to share consistent answers, using the right templates and corporate design guidelines.
As more and more companies look to outsource at least part of their customer service operations, they need to balance the need for greater efficiency with protecting their reputation, ensuring that the customer experience remains a differentiator for their organization. Putting in place the right knowledge, technology and support for agents is central to delivering this, making outsourcing a seamless piece of the customer service jigsaw.
Categories:
Best Practice, Trends & Markets
You might also be interested in these posts: