Delivering best practice in Voice of the Customer programs
Published on:
July 03, 2019
In today's hyper-competitive world, it's a business imperative to understand the needs and expectations of customers if businesses are going to survive and thrive. That's why the vast majority run Voice of the Customer (VoC) programs to listen to feedback and act on this insight to improve how they operate.
Over three-quarters (78%) of brands surveyed by Eptica said they ran a VoC program – but many (29%) said that it wasn't delivering the insight they needed. This is echoed by research from Forrester, which found that just a third of CX professionals felt their VoC programs were effective at driving action.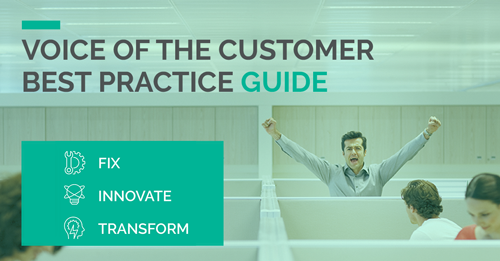 This all points to a need to transform VoC. Brands have to focus on taking new approaches that go beyond simply running customer experience surveys or measuring through basic metrics such as NPS. To help, Eptica has created a new VoC Best Practice guide. This highlights the seven areas that brands should look at if they want to gain real ROI from VoC:

1. Take a holistic view
Collecting VoC feedback has traditionally relied on customers filling in surveys. However, this gives an incomplete picture, across a single channel, and tends to attract those that have either had a very positive or very negative experience. Research might be undertaken weeks or even months after an interaction took place and the questions and format are all designed by the company, limiting what the consumer can actually say.
This clearly needs to change. Brands must, therefore, take a holistic view and listen across the customer journey. Gartner estimates that 80% of an enterprise's data is unstructured, living in emails, social media posts or other documents – brands need to analyze these verbatim customer conversations if they want complete insight. They also need to listen at all touchpoints in the journey, and ask in real-time, rather than sending a survey to a customer months after an interaction.

2. Embrace a scalable solution
Whatever their size, brands receive a growing number of contacts from consumers, across more and more channels. Nearly half (48%) of consumers say they contact brands more often today than five years ago. Added together, UK brands now have to deal with nearly half a billion interactions every month. This increasing volume of interactions, across multiple channels, means that your VoC program must be able to scale to ensure that all information is analyzed effectively. To find relevant insight in this haystack of data, brands need to invest in AI in order to deliver actionable customer intelligence quickly and efficiently.

3. Combine Qualitative and Quantitative data
There is currently a major debate raging about the relative strength of metrics such as NPS. Whatever your view, it is important to understand that these metrics only go so far. Essentially, they tell you what consumers are feeling. However, to drive real insight you need to know why they are saying what they are saying. This requires in-depth analysis of qualitative data, mining it for insights, particularly around the emotional state of the customer and their future intent (i.e. are they going to leave or cancel their order?). Again, AI and text analytics are vital to uncovering this insight at scale. However, bear in mind that generic AI that is not tuned to customer experience and the needs of your company and industry will not provide the personalized insight you require to take effective action. Instead, look for a specialist that understands your sector and the VoC market.

4. Enable collaboration across the business
To meet changing customer expectations, organizations have had to break down departmental silos and ensure teams work together more closely. While this is happening in the customer journey, too often the results of VoC programs become trapped in silos and are not shared across the organization. For example, while customer insight is shared with marketing in 79% of companies, just 38% of companies surveyed by Eptica shared it with e-commerce. Democratize feedback and ensure that your program makes it easy to share relevant data with relevant people and departments in ways that they can easily action.

5. Focus on actionable insight that drives change
As we've said, generic KPIs such as NPS give headline figures for a business but don't help individual teams to improve. And it is often at the local level – in a particular store or in one part of the customer journey, that real improvements can be made that drive loyalty and greater efficiency.
Therefore, ensure you are delivering specific, focused insights to each team through customized dashboards tailored to their roles so that they can get the information that they need. Extend insight to make it easy for teams and departments to ask ad-hoc questions while data is still fresh, relevant and actionable.

6. Provide real-time insight for a real-time world
We live in an always-on world. Therefore, in today's competitive environment, listening to customers needs to be continuous. Major issues can arise quickly and unless they are spotted immediately, huge damage can be done to the customer experience and brand reputation. This means real-time insight needs to be shared quickly to enable teams to respond to close the loop with customers and to improve processes to increase retention and sales. Your VoC program, therefore, must be able to collect, analyze and share information at the right speed for your business and its individual departments.

7. Demonstrate business impact and measurable ROI
Any business project needs to show return on investment – and VoC is no exception. However, too often VoC projects struggle to show meaningful ROI. Often this is because insight is not provided in a format that is easy to action or that drives business impact. Go beyond just listening by providing action plans and best practice recommendations alongside customer insight data across your organization. For example, a store manager that sees a drop in sales can be given specific, proven ideas that will help increase revenues, based on the experiences of other branch managers.

To download the full Eptica Voice of the Customer Best Practice guide, which includes an overview of the business benefits that VoC brings, best practice recommendations, case studies and a checklist for choosing the right tool, please visit here.

Categories:
Best Practice, Product
You might also be interested in these posts: