Delivering public sector customer experience at a time of change
Published on:
October 30, 2018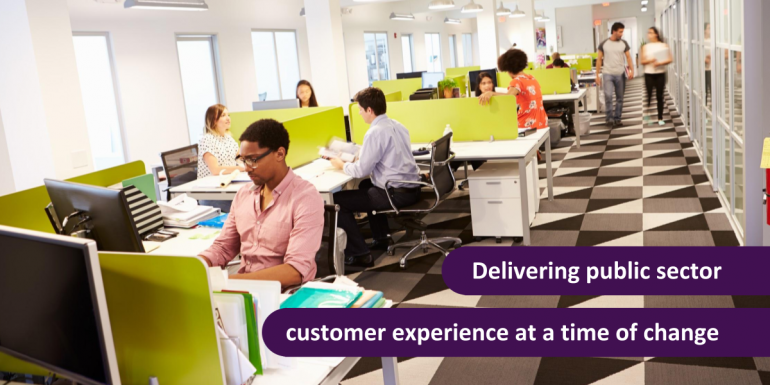 Driven by budget pressures and rising expectations from citizens public sector organizations are currently undergoing a major change. They need to deliver more with less, but at the same time meet the needs of a more digitally-savvy audience. For example, half of UK citizens see digital services as 'very important' to their daily lives, while a quarter use them wherever possible. Citizens expect the same level of innovation, high-quality experience and range of channels when engaging with a local council as interacting with an e-commerce retailer.
This is why it is vital to the public sector to overcome these challenges and meet the needs of citizens, to drive a need for digital transformation, particularly when it comes to customer service. Achieving this relies on applying four key principles:
1. Put customers first
Public sector organizations should start by understanding that citizens are their customers. While they may not have a choice of supplier, they want to be valued and receive a high-quality service, built around their requirements. That means learning from customer experience leaders in other sectors – consider which lessons can be applied successfully to your organization?
In order to put customers first you also need to listen and act on their needs. Surveys only deliver a partial picture, so organizations should also look at how they can analyze all of the interactions that they have with citizens to better spot trends, improve services and introduce innovation.
2. Empower staff
As with every sector, the number and complexity of the questions that frontline public sector employees receive are growing rapidly. It is important to support them with the information, processes, and technology they need to deliver fast, accurate and consistent answers. For example, the NHS Business Services Authority installed a centralized knowledge base to provide its contact center staff with all the information they need to respond to 3 million calls and 300,000 emails every year. Other public sector organizations, such as Birmingham City Council (BCC) are using AI-powered technology to help agents respond to email. Through Eptica, incoming emails and web forms from 25 services are analyzed automatically, providing BCC's agents with relevant template-based answers they can use to respond to the 90,000 emails received every year.
3. Collaborate across the organization – and beyond
Many public sector organizations have changed dramatically over the past five years, as they seek to restructure themselves to best use shrinking resources. This often extends to closer collaboration with other partners, such as local councils merging their back office functions to increase efficiency. For this to be effective, organizations need to break down silos and work together, sharing knowledge and information in seamless processes. This means that incoming queries have to be delivered to the best person or department to respond, backed up by access to the right information to provide a fast, accurate response. For this reason, many organizations are turning to AI-based text analytics to analyze emails, social media posts, and web forms, and then forwarding onto the most qualified agent to provide an answer.
4. Drive efficiency
The public sector has to operate within tight financial constraints. The good news is that technology can help deliver a more efficient service, while still delivering what citizens want. For example, deploying AI-based self-service systems on public sector websites deflects queries that would otherwise be made by email, the phone or social media, giving citizens faster access to information and reducing inbound enquiries. Introducing chat enables agents to combine the conversational nature of a phone call with the efficiency of digital channels, enabling the public sector to do more with less. Automated chatbots take this a step further, delivering automatic answers through channels that citizens are increasingly happy to adopt – for example, recent research found that 64% of Britons want the opportunity to use chatbots.
The need for greater innovation and efficiency is driving major changes as public sector organizations adopt more digital-first structures and models. Focusing on the needs of citizens and building the right experience is essential to retaining trust and delivering effective services as we move forward.
Categories:
Best Practice, AI, Artificial Intelligence
You might also be interested in these posts: