Demonstrating the financial ROI of better customer experience
Published on:
June 21, 2017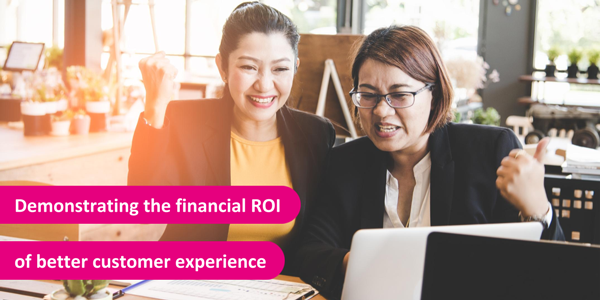 All organizations understand the importance of customer experience to the bottom line. CX is at the heart of differentiating yourself from the competition, whatever sector you are in, and key to retaining customers. As research shows it costs 6-7 times as much to win a new customer than to keep an old one. Analysis by Harley Manning of Forrester, comparing companies in five different industries, found that revenues grew dramatically faster in CX leaders than at laggards – on average by 14%.
Yet putting a monetary return on individual investments is much more difficult – for example research from Temkin Group suggests that only one in ten companies measure customer experience effectively. Often this is because it is difficult to disentangle the impact of individual programs on attraction and retention and to therefore track what works. Additionally, customer service is often seen as a cost center, meaning that the focus is on lowering spend and simply operating as efficiently as possible, rather than investing for growth.
So how can customer experience teams demonstrate ROI in concrete terms and move beyond anecdote when it comes to justifying investments?
The first step is to look at the metrics to measure – here are some recommended by analysts and commentators:
1. Higher satisfaction drives loyalty, and repeat business
Clearly happy customers tend to remain loyal and continue to buy from you, boosting your revenues. As Forrester analyst Ted Schadler points out, this means if you can identify touchpoints on the digital customer journey that are leading to dissatisfaction, you can take action to fix them. Then you can measure increases in satisfaction, such as through Customer Satisfaction (CSAT) scores, around that particular touchpoint and the resulting boost in revenues.
2. CX improvements drive higher revenues or lowers costs
Providing service on digital channels, particularly self-service and chat, is cheaper than answering phone calls. Therefore, providing new ways of interacting with the business will lower your costs and enable resources to be reallocated. However, companies need to ensure that reducing budgets does not happen at the expense of the customer experience – any changes should benefit consumers as well as your bottom line. Otherwise they will simply stick with older channels, or leave, making your investment a failure. When switching to digital bear in mind the demographics of your customer base – are they ready to move to newer channels or will they see it as a step too far? Create a realistic figure for the percentage likely to switch in order to calculate potential savings and thus ROI.
3. Referrals to drive new business
Satisfied customers tell their friends and family about your products and services. Unhappy ones do the same. There is therefore a strong link between advocates and new business, hence the use of metrics such as the Net Promoter Score (NPS), which measures likeliness to recommend. Use NPS to demonstrate satisfaction and its impact on revenues, based on customer feedback after every interaction.
4. Using feedback to drive improvements
Every customer conversation provides information to your business on what consumers want and how you can improve. For example, if 90% of your questions about a particular product are asking if it is available in blue, then that's a strong indication that you should look at adding that option. Capturing this feedback and linking it to ROI can be difficult though as it requires a joined-up approach across the company, with multiple departments involved. Look at artificial intelligence and linguistic-based tools that carry out verbatim analysis of all digital interactions and pinpoint customer intelligence insights that you can then investigate further.
5. Service as sales
Clearly, if a customer contacts you with an issue or a complaint trying to sell to them rather than solving their problem is likely to cause annoyance and may even mean they leave. However, service can help during the sales process, particularly through channels such as chat which enable agents to help customers complete a transaction. Look at introducing proactive chat, with assistance offered when customers seem to be stuck on a page, or have reached the final stage of the process without checking out. Not only can this move them forward, but it also offers the chance to cross-sell and up-sell complementary products and services in a positive, helpful manner.
Measuring the impact of customer experience in ROI terms is a vital part of proving the worth of CX to the business and therefore unlocking further investment. Look at ensuring that you have the right metrics in place, along with ways of measuring them accurately and can turn this data into business-relevant insight to prove your case.
Categories:
Best Practice
You might also be interested in these posts: