Empowering agility through AI-based Voice of the Customer programs
Published on:
July 17, 2019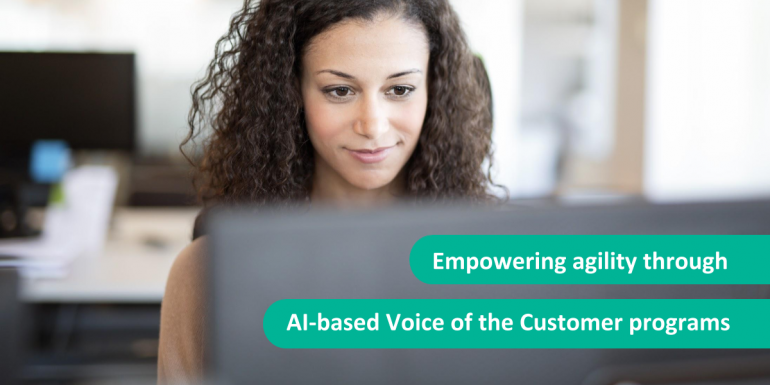 Every industry is facing greater competition and a need to react more quickly to customer needs, often in real-time. With seemingly shorter attention spans, consumers are increasingly motivated by novelty – they want to buy the latest product or service and quickly move onto new innovations. The rise of pop-up restaurants and the success of limited edition products that sell out quickly demonstrate this trend. In fact, research shows that the search for novelty is hard-wired into our brains, triggering reward chemicals within it. Marketers, therefore, need to embrace rather than fight it.
What this means is that brands have to be able to market new products quickly and to understand how well they are being received by customers in very tight timescales. They have to be able to course-correct quickly if the messaging or the product itself doesn't quite resonate. However, old-style Voice of the Customer (VoC) programs don't deliver this insight fast enough, as they take time to collect feedback, analyze it and share it across relevant teams. This can lead to missed opportunities that hit the bottom line and potentially damage brand reputation.
Delivering a faster time to VoC value
Brands require a new approach to VoC to meet the need for agility, one that combines different types of AI – text analytics and machine learning. These work in complementary ways, as explained in this previous blog,
Text analytics is an extremely powerful tool to uncover insights from unstructured data, such as open-ended comments, emails, chat and social media. It can also be used to analyze information within open questions in traditional VoC feedback surveys, allowing customers to share their thoughts and feelings quickly and easily. However, to use it effectively within VoC text analytics needs to understand the customer journey and industry-specific context. For example, different words will have different meanings in different sectors so you need to apply industry-specific models to ensure you receive relevant, actionable information.
As it uses these defined criteria it is perfect for gaining insight into themes that don't change over time - analyzing sentiment within recurring topics., for example, the friendliness of service, the competence of staff or the checkout experience. This gives actionable insight that can be acted on and monitored over time, particularly in industries such as retail where continually analyzing consumer feedback is essential to marketers.
The big disadvantage of text analytics is a lack of scalability. Once categorization algorithms are built to support a conversation structure, they cannot be evolved without reworking them for every new data set. This is where machine learning can be deployed to make it even more powerful through a hybrid approach.
Machine learning can be trained by analyzing new information, through either supervised or unsupervised learning. In the case of supervised learning algorithms learn from labelled data and predict the category the data belongs to, as Eptica's vecko does using our industry-specific category models. Alternatively, unsupervised machine learning is less fixed and trains itself by analyzing new information. This learning doesn't require human intervention, making it powerful for unplanned or quickly evolving data. For example, it is perfect for analyzing the impact of new promotions or events, such as Father's Day, that may appear and disappear very quickly. If applied correctly, machine learning can deliver insight from customer conversations in 2-3 days on these new terms, arming marketers with the information they need to make rapid decisions.
Benefiting from a hybrid AI approach
Clearly, brands need to be able to use both these types of AI together to power their Voice of the Customer programs. This will enable them to deliver the constant improvements that drive greater ROI, such as by improving overall processes or the experience in selected areas on and offline. At the same time, it allows brands to analyze and react to short-term events. This holistic view enables marketers to meet their customers' insatiable desire for novelty, while still monitoring and refining the wider customer experience.
Agility is key to success in marketing and business today – brands need to be able to move fast and innovate in order to seize opportunities before their rivals and meet their customers desire for new things. Only through a hybrid AI approach can they, therefore, deliver the VoC insight that they need to successfully compete over the short and long-term.
Want to ensure agility through better customer intelligence?
Eptica's vecko is powered by hybrid AI to deliver complete insight. It comes with a comprehensive set of category-specific topics for industries such as retail and banking, based on their common themes and pain points. Additionally, it can be trained through machine learning using information from verbatim conversations in order to quickly analyze and understand new topics – all in the same, intuitive, easy to use platform. Find out more about vecko on our minisite.
Categories:
AI, Best Practice
You might also be interested in these posts: