Getting it right first time – the impact on customer service
Published on:
September 22, 2016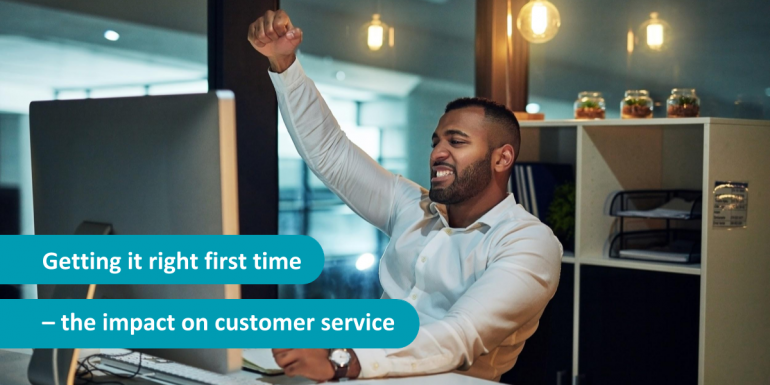 Today's consumers are time poor and impatient when they have an issue that needs solving. Consequently, they value fast, consistent and helpful customer service that answers their query or sorts out their problem, first time - however they choose to make contact. Yet, according to new research consumers now believe it takes six different interactions to resolve an issue, and that the amount of time and contacts required is increasing.
Of course, some of this could be due to growing complexity in the queries and requests that consumers are raising, particularly if they are finding routine information through self-service rather than having to contact companies directly. However, the perception that service is becoming slower and more complicated leads to two issues for companies:
Most organizations measure the percentage of interactions that are solved in a single conversation by monitoring First Contact Resolution (FCR) rates. Obviously, simply focusing on increasing FCR alone can have a negative impact on customer satisfaction, but there are multiple ways to get it right first time, benefiting both the consumer and the business. Here are four of them.
1. Give your agents the right information
One of the primary reasons agents can't solve a problem is that they don't have access to the right information at their fingertips. This means they need to go away, check an answer and then call the customer back. Or even worse, they give an answer that is incorrect, potentially causing the customer to re-contact the organization at a later date. Provide agents with access to a single, centralized knowledge base, whatever channel they are working on and you'll speed up response times, and they will be able to deliver answers with confidence.
2. Make customer service everyone's job
No matter how comprehensive your knowledge base is, there will be questions that are too complex or specialized to be answered immediately by front line staff. Normally, the required information is elsewhere in the organization, such as within the product marketing or technical teams. So ensure you have the workflow in place to immediately escalate such queries to the right person, and make sure you can monitor the interaction until it is satisfactorily resolved. Customer service is everyone's job – so use everyone's skills to improve the experience for consumers.
3. Match skills to customer needs
Different agents have different levels of experience and could well be good at different things. Analyze incoming interactions using linguistics to identify the topic and tone of the query, and use this information to send it straight to the best available agent. That way they can use their skills to provide the perfect answer, first time, while engaging with the customer and deepening relationships.
4. Deflect what you can
Companies are facing a huge increase in the volume of interactions they receive, particularly on digital channels. Consumers are more demanding than ever before and failure to answer their questions quickly, particularly when they are researching purchases, can mean they simply buy from your competition. Make sure that your website is able to provide all the routine information they need through self-service systems linked to the same knowledge base that your agents access. That way everyone benefits – you deflect unnecessary calls, emails and social media messages, allowing agents to focus on more complex queries, while customers get faster answers and don't disrupt the customer journey switching channels or waiting for a response.
When it comes to service, consumers want solutions first time – they don't want to wait or have to call back. Get it right first time, and not only will you retain customers moving forward, but you'll build loyalty, create brand advocates and increase efficiency at the same time.
Categories:
Best Practice
You might also be interested in these posts: