Hanging on for telecoms customer service
Published on:
April 18, 2016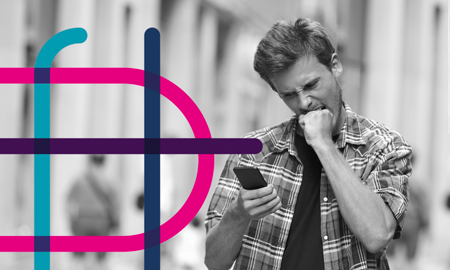 In the past telecoms has gained a reputation for poor customer service. There are a number of reasons behind this:
Complex service/billing plans, that can be difficult for consumers to understand
Advanced technology with many components, all of which can potentially cause problems
Downward pricing pressure caused by increasing competition
Consolidation of services as operators launch new offerings
The sheer importance of telecoms to our daily lives
However, according to UK industry regulator Ofcom, customer experience is improving across the sector. Its latest data found that the total volume of telecoms and pay TV complaints decreased between Q3 and Q4 2015. The only sector where issues grew was pay monthly mobile, where the average rose to 10 complaints per 100,000 customers, from 8 in the previous quarter. While there were spikes in issues with particular operators, the figures point to an overall improvement across the industry.
Obviously complaints to the regulator are very much the last resort for consumers, meaning that the true number of upset customers is likely to be greater. Many will either have their issues sorted out by the operator, or will simply switch to rivals when their contract runs out if dissatisfied with the service they are receiving.
Therefore, it is worth comparing the Ofcom figures with the evaluation of telecoms companies carried out as part of the 2016 Eptica UK Multichannel Customer Experience Study. This mimicked consumer behavior by making contact with operators through multiple channels (web, email, Twitter, chat and Facebook) and seeing how they responded to routine questions in terms of accuracy, speed and consistency.
In contrast with Ofcom, this found that performance was patchy, and had deteriorated over the last twelve months on certain channels. Telecoms providers seemed to be focused on a small number of channels, with others (such as email) closed off to non-customers.
While 61% of questions were answered online, this was just 1% higher than in 2015, and meant that telecoms ranked 7th out the 10 sectors in terms of performance on the web.
The sector was strong on social media, topping the table on Twitter, where 75% of queries were answered successfully, although response times ranged from 21 minutes to nearly 24 hours. 90% of telecoms operators were on Facebook, and 60% gave an accurate reply to the query. Showing a lack of joined up thinking the fastest company on email was slowest on Facebook.
Shutting down key channels
In contrast to social media, email and chat were major disappointments. Just one company provided email contact details for non-customers, down from two in 2015, although it did answer the query successfully in 33 minutes. This essentially cuts off a potential channel of new business, forcing consumers to switch to other means of getting answers to their queries.
80% of operators claimed to have chat (the highest number of any sector), yet only 40% had it operational when tested. This is another missed opportunity, as chat offers the chance to engage, explain technical issues and to cross and upsell new services. 87.5% of chat questions were answered satisfactorily, but more needs to be done in order to ensure sufficient resources are available to cope with demand for the channel.
The lack of responses on email and chat also impacted consistency and multichannel service. Only 40% of operators provided consistent answers on two or more channels, meaning the vast majority are not joining up their operations or sharing knowledge between them. No telecoms providers answered on chat, email, Twitter and Facebook, with 20% responding successfully on three of these channels. 70% answered on two channels.
With competition continuing to grow in the telecoms market, and consumer expectations rising, customer experience is becoming a key differentiator for operators. For that reason it is time for them to focus on having meaningful conversations with their customers, across every channel, if they want to win and retain their loyalty.
Categories:
Best Practice
You might also be interested in these posts: