How AI can help transform Voice of the Customer programs
Published on:
September 04, 2018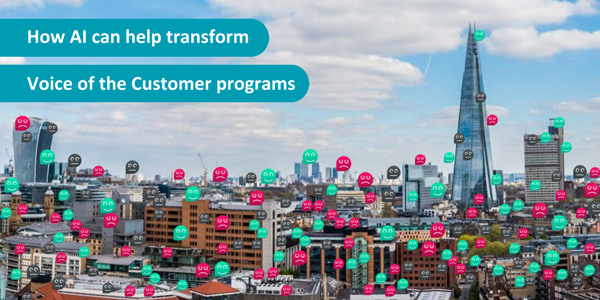 Understanding the Voice of the Customer and using this insight to drive real improvements is critical to transforming the customer experience. However, achieving the deep VoC understanding that brands require means moving beyond simple, quantitative surveys to embrace a wider range of customer data to get a complete picture. In turn, this brings challenges in terms of the sheer volume of interactions that need to be analyzed in order to get a clear, accurate and useful insight into what customers are looking for.
To achieve this, leading VoC platforms, such as Eptica's vecko, are embracing artificial intelligence to deliver detailed, scalable analysis. How does AI help and what should you be looking for in AI-based VoC systems?
Experience
While it may have only hit the headlines recently, AI has a long heritage. It takes time, and a lot of research and development, to create artificial intelligence-based systems that are based on real understanding of key concepts such as Natural Language Processing (NLP) and semantic search. Therefore look for a vendor that has deep experience in developing their own technology, dating back over many years. If you want to know more, our CTO Pascal Gauvrit explains some of these key concepts and what they mean to customer experience in this blog.
Based on text analytics
When it comes to AI, there's a lot of talk about machine learning – essentially allowing systems to self-learn based on their own experiences, such as by pointing them at large amounts of data. However, this training takes time, meaning that relying on machine learning alone doesn't guarantee accuracy or fast results. Instead, AI technology built on rules-based text analytics gives much better out of the box performance. These systems don't need to be trained as they follow key linguistic rules, such as identifying syntax and using semantic understanding to deliver reliable, fast results.
Focused on VoC
AI clearly has applications in multiple industries and multiple roles – everything from self-driving cars to analyzing medical records to spot potential illnesses. These applications can have very different needs to Voice of the Customer programs, so ensure that you are working with a vendor that understands the requirements of analyzing digital conversations, and also has a deep knowledge of your particular industry, its terms and use cases. For example, at Eptica we have created category models (essentially industry templates), for CX within 15 key sectors. All of this means that you get accurate, actionable insights much faster, increasing return on investment from your program.
Offers a full range of linguistic services
Linguistic services enable you to understand digital conversations in multiple ways. Therefore look for a AI-based VoC system that includes as many as possible – there are five that we believe are critical to CX:
Sentiment analysis – understanding whether a digital interaction is positive, negative or neutral in tone

Emotional analysis – what are the emotions of the consumer? Are they happy, angry, sad, fearful? Our vecko solution currently analyzes for 20 emotions

Effort analysis – how much effort has the consumer had to make to try and solve their issue or make contact with you?

Intent analysis – what is the likely next step of the consumer? Are they at risk of leaving or cancelling an order for example?

Topic extraction – what are the subjects covered within the conversation? Again, much of this analysis needs to be based on an understanding of a specific industry and the activities and interactions within it
Adopts a hybrid approach
I pointed out earlier that machine learning is not yet completely mature for CX business applications, requiring time to train the system and set parameters. Instead, using supervised Natural Language Processing for CX ensures accurate results, delivered as soon as the system goes live, rapid deployment (if the industry is covered), and the ability to scale, whatever the volume of data.
However, there is one key area where machine learning techniques can underpin CX-based AI, and that's cleaning the data at the beginning of text analysis. Essentially, machine learning can be used to spell check incoming interactions, remove 'noise' (i.e. the parts of the conversation such as "Dear XX.." that are not relevant to analysis), and to tag particular parts of speech, such as verbs and nouns. This best of breed approach uses the flexibility of machine learning to speed up the process, and to catch what existing rules miss, allowing you to turn newly found words and patterns into new rules and topics, while allowing NLP to be used for the main analysis.
Artificial intelligence promises to transform customer experience, both when talking to customers and analyzing their interactions within VoC. To take full advantage make sure you are implementing a system that covers these five areas, and are working with a vendor that understands your business and your market.
Categories:
AI, Best Practice, Artificial Intelligence
You might also be interested in these posts: