How artificial intelligence can transform your customer experience
Published on:
May 16, 2018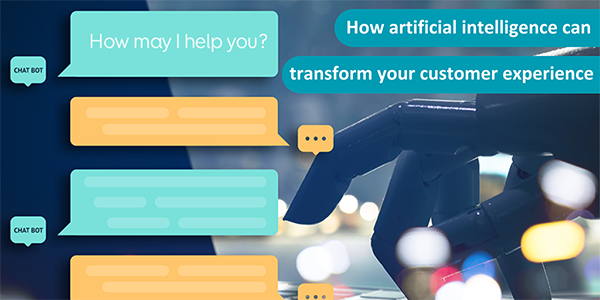 When interacting with brands, consumers want the process to be easy, effective and based on an understanding of their emotions and the individual needs. They want a personalized service – and their expectations are continually growing. Recent Eptica research found that nearly two thirds of UK consumers (65%) say they want to ask brands more detailed questions than five years ago, for example.
Artificial intelligence is key to delivering the experience that today's customers are demanding. It can improve the experience across the entire journey, help brands differentiate the service they provide, increase efficiency and enable a customized approach that meets individual needs.
Recent reports from Forrester back this up, highlighting the fast-growing importance of AI in customer experience. The reports, Now Tech: AI-Fueled Digital-First Customer Service Solutions and The Second Coming Of Digital-First Customer Service Solutions explain how brands can use AI-powered digital platforms to strengthen relationships – and how companies can select the best vendor to help them on their AI journey. Eptica is included in both reports, demonstrating its heritage and strength in artificial intelligence, Natural Language Processing and linguistics.
Forrester's research demonstrates some of the key ways that artificial intelligence can improve the experience and drive differentiation and loyalty. These include:

Personalization. By understanding what exactly the customer is asking, their emotional state (happy or sad) and looking at the entire interaction through text analytics, brands can seamlessly and quickly deliver exactly what a consumer is looking for.




Proactive and pre-emptive support. AI helps brands to understand the intent behind consumer behavior. This means companies can provide the right support at the right time, as well as delivering information ready for the next step in the customer journey. Essentially, you can answer potential questions before they have been asked, based on analysis of relevant consumer behavior.




Faster service. Brands face an increasing volume of incoming interactions from customers, across more and more channels.

Consumers want fast, accurate answers – and they aren't willing to wait. AI can help reduce workloads within the customer service team, both by providing self-service through websites and chatbots, and by empowering agents with template-based answers that can then be personalized and sent to customers.

Providing these digital-first customer service capabilities is beyond the scope of traditional CRM solutions, according to Forrester, meaning that brands need to extend their capabilities to handle these new channels and orchestrate new experiences.
Whether it is through chatbots, digital self-service, empowering agents on evolving channels such as chat or through more traditional methods such as email or social media, AI has a key role to play in customer service. It gives the ability to understand the context, meaning, tone and emotion of digital conversations, empowering agents and enabling brands to deliver personalized service at scale. Essentially companies can have meaningful conversations with their customers, delivering the service that they want, on their channel of choice, helping increase loyalty, recommendations and bottom line revenues.
However, adopting AI can appear daunting. Therefore to help brands investigating artificial intelligence Eptica has created a series of blogs that explain the key terms and how they can transform your approach to customer experience. Read the first post, explaining the differences between bots and chatbots here, before learning about the types of AI, and the important concepts that underpin it.
Categories:
Best Practice, AI
You might also be interested in these posts: