How Crédit Agricole Consumer Finance is uncovering the hidden "why" behind the customer experience
Published on:
September 04, 2019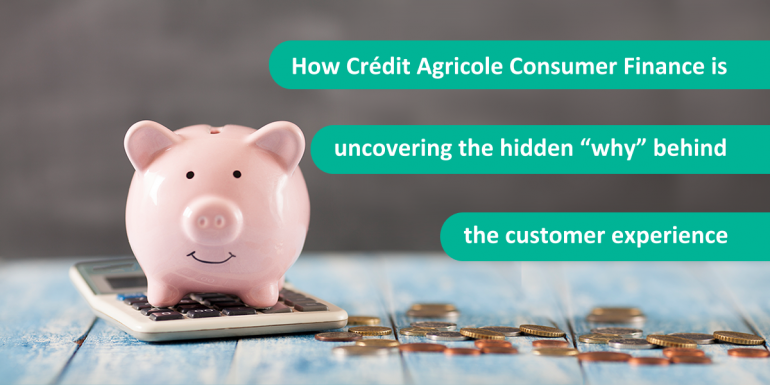 Brands know that getting a better understanding of their customers and their journey is key to creating a winning customer experience strategy. That's why so many successful companies operate Voice of the Customer (VoC) programs.
However, while these initiatives are great for measuring quantitative metrics such as Net Promoter Scores (NPS), Customer Satisfaction Scores (CSAT) and Customer Effort Scores (CES), they're unable to explain why customers feel the way they do - and what is driving their behavior. Granular insights such as this can inspire improvements to help boost retention and revenues.
This lack of "why" insights that can be used to drive constant improvements was one of the main challenges faced by Crédit Agricole Consumer Finance (CA CF), a major player in the consumer credit market which operates in 17 countries in Europe, as well as in China and Morocco.
The company, which offers flexible, responsible and tailored financing solutions to over nine million customers globally, was already operating a wide-ranging customer intelligence program to identify faults and disruption points along the customer journey. This initiative included an extensive VoC program consisting of 100,000 annual feedback surveys - these were analyzed manually and the results of which were made available to the entire workforce via digital dashboards.
However, while its VoC surveys were delivering very helpful quantitative metrics, CA CF also wanted to analyze the millions of verbatim customer comments it was receiving to understand the missing "why" behind customer behavior. The company chose Eptica's vecko AI-powered Voice of the Customer technology to help.
vecko uses state of the art AI and Machine Learning to transform VoC data into customer intelligence through its ability to automatically analyze large volumes of structured and unstructured information within customer interactions. By enabling these insights to be shared regularly across the business, vecko allows teams to continuously work on improving the customer experience and to manage and enhance customer satisfaction. The AI within vecko guarantees a 95%+ reliability rate when it comes to analyzing customer verbatims, enabling CA CF to extract true customer intelligence that explains emotions, churn risks and intentions.
For a detailed overview of the business benefits being delivered read our case study here.
Categories:
Best Practice, AI
You might also be interested in these posts: