How good is the digital customer experience from travel brands?
Published on:
April 18, 2018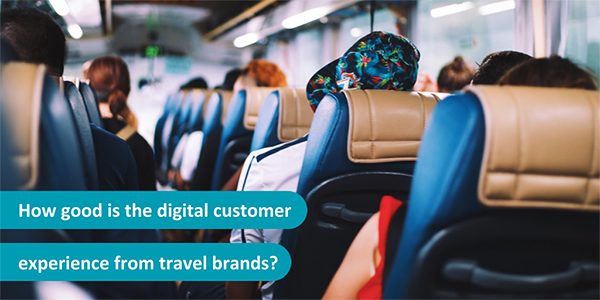 Not only are holidaymakers now booking their travel and accommodation online, but the web has also paved the way for new business models, with more people going direct to hotels and airlines rather than booking complete packages from traditional travel agents. Online aggregators and platforms such as Airbnb are intensifying competition and there are even rumors that Amazon is likely to enter the market in the near future.
All of this has fundamentally reshaped the industry and put pressure on delivering a more efficient and superior, personalized experience to customers. Those who get it wrong can face a barrage of complaints and criticism on social media – witness the high profile social media backlash experienced by United Airlines last year. Whether it is a flight or a break, people want a relaxing, stress-free experience, from researching destinations, booking their trip to going on the holiday itself.
So, how are UK travel companies doing in terms of online customer experience? As part of the annual Eptica Multichannel Study, conducted since 2012, we tested 10 major travel brands (6 airlines and 4 travel agents) on their ability to provide answers to ten routine questions via the web as well as their speed, and accuracy when responding to email, Twitter, Facebook and chat.
Overall, the study found that the performance of the travel industry across major channels declined, successfully answering just 36% of questions across the web, email and social media. This was a fall of 13% from the previous year, with all channels worsening on average, except for chat which remained static.
Other key findings included:
The service provided by travel brands showed wide variation, with one company answering 90% of customer questions on its website, while another could only manage 40%. One airline answered on Twitter in 23 minutes, but took over 4 days to answer the same query on email!

Email performance was particularly poor with only two successful answers received by travel brands - and one those took over 7 days. Hardly satisfactory, especially for those wanting to book a last minute break.

Travel brands successfully answered an average of 35% of questions on Twitter and 25% on Facebook, down from 50% and 45% last year. In comparison, top sector Fashion Retail scored 70% and 45% respectively.

Only two travel brands offered chat on their websites and they managed to achieve a score of 75% - not bad, but still some way behind Consumer Electronics Manufacturers, where double the number of brands (40%) offered chat.
Travel has been transformed by the internet, but many companies don't seem to have transformed their customer experience to compete. Here's a five point check-list for the industry to consider:
Automate routine interactions: Reduce the load on more expensive channels by introducing web self-service and chatbots for fast answers to routine queries.

Integrate: Share resources and knowledge across channels to maximize efficiency, consistency and to speed up the process of helping customers.

Invest in chat: It delivers significant benefits to both consumers and brands alike so resource it effectively.

Empower agents: Use artificial intelligence and automation to free up agents for queries that require human skills such as empathy and personalization or opportunities to upsell.

Benchmark: Continually improve by comparing your brand against acknowledged CX leaders, whatever their industry.

The digital customer experience is vital to success in the travel sector. People appreciate a good, reliable, hassle free experience, whether they're choosing their holiday or having to ask questions or queries after they've booked. The intensity of competition makes it essential for brands to focus more on this part of their business if they want to retain their reputation and drive greater sales.

If you would like find out more, please download your copy of our latest Eptica Multichannel Study for the full findings, survey results and more best practice recommendations.
Categories:
Best Practice, Trends & Markets
You might also be interested in these posts: