How to reduce Average Handling Time and improve quality
Published on:
July 03, 2018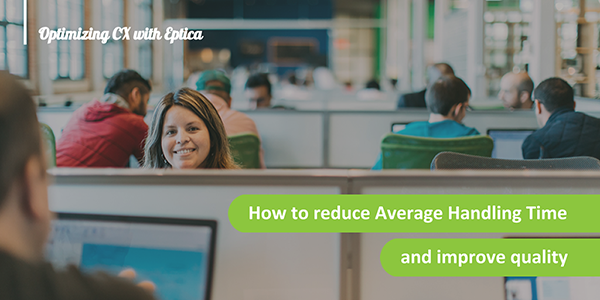 Optimizing CX with Eptica
Constant improvement is key to meeting customer service needs and differentiating your business from rivals. At Eptica we therefore work closely with our customers, helping them optimize how they use our AI-powered solution by providing training and advice that lets them maximize efficiency and customer satisfaction.
In the first of a new series of posts on optimizing CX with Eptica, we're going to share this knowledge with our wider customer community – as well as delivering outline advice to everyone involved in customer service.
In our first article, I'm going to look at how you can improve Average Handling Time (AHT), reducing the time it takes to respond to consumers, while maintaining quality and efficiency.
There are five key areas where Eptica can augment agents with AI-powered solutions to assist with successfully bringing down AHT.
1. Share knowledge through best templates
A large proportion of consumer questions are asked multiple times, by a number of people. Creating individual responses on email or social media is both time consuming and potentially inconsistent. Reduce the time it takes to answer by analyzing incoming messages, such as emails, and automatically providing the best template from your Eptica knowledge base to answer the particular query. The agent simply needs to personalize it and send it on, cutting handling times while preserving accuracy and customer satisfaction.
2. Wrap multiple requests in bulk
Again, you can often receive the same basic query, from multiple people at the same time, for example around a new promotion or last order dates for Christmas. Answering using templates will reduce handling time, but with Eptica you can go further, using filters to identify and select all incoming requests that require the same response. You can then provide it to all of them 'in one go', personalized by name, saving time without impacting the service provided.
3. Automatic assignment of queries
All customer contact centers operate on a queueing system, with incoming enquiries then filtered by agent skill or specialism. However, it can be daunting for agents faced with a list of tasks, meaning they will often begin with the easiest ones, rather than those that are older, but potentially more complex. With Eptica, you can focus agents, particularly at busy times, by removing the option of cherry picking and automatically assigning the oldest query to the next available, relevant agent with the skills and knowledge to answer it. This reduces agent time spent scrolling down the queue, lessens backlogs and improves AHT.
4. Reduce the queue through pending requests
Customer expectations are continually increasing, meaning that they will often send chase emails if they don't get an immediate answer. 33% of consumers surveyed by Eptica expect a response to their email within half an hour, for example. This can translate to 1 in ten of the emails in your queue being duplicates, asking the same question again or chasing a response. Use Eptica's powerful filtering technology to identify and show all open requests from the same customer to the agent, when they are handling an incoming enquiry. This allows agents to answer and close them as a single interaction. This also removes the possibility of two agents responding to the same person, so increases efficiency.
5. Keep the customer up to date when escalating
Customer queries are becoming more and more complex – Eptica research found that 65% of consumers wanted more detailed questions answered compared to five years ago. That means that some queries will need to be escalated to subject experts in a different department. Eptica not only allows you to forward questions onto other parts of the company, but also enables you to automatically respond to the consumer, explaining what you are doing through the same process. This avoids needing to handle the email twice, speeding up responses while meeting SLAs.
Eptica's conversational, AI-powered platform provides crucial functionality to service teams, based on our deep knowledge and understanding of what it takes to deliver a successful customer experience. To find out more about optimizing your Eptica system, simply contact your account manager, who'll be happy to put you in touch with our professional services team who can provide training and advice.
Categories:
Best Practice
You might also be interested in these posts: