How to write the perfect RFP for your customer experience project
Published on:
August 22, 2018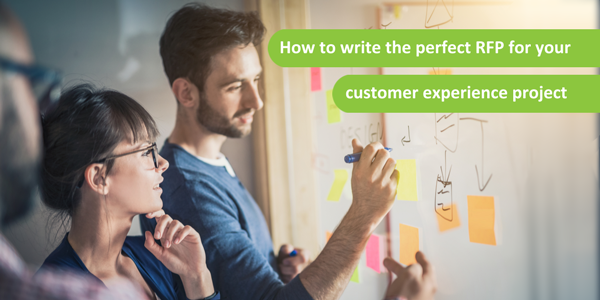 In a previous post we discussed how you can choose the right customer experience platform for your company. One of the key points covered the need to write a comprehensive, clear Request for Proposal (RFP) to ensure your selection process delivers the right results.
Writing a RFP, particularly for the first time, can be daunting, so in this article I'm going to focus on what should be in the document. A great RFP helps everyone. It means that internally you are consistent about what you are looking for, potential vendors understand what your priorities are, and there is a straightforward process in place that is open and transparent.
Essentially your RFP should contain these key sections:
1 Background on your business
Outline your organization, what it does and where it operates. This will give vendors a chance to build a picture of your needs, the scale of solution you want and any specific requirements, such as multilingual capabilities.
2 What is the purpose of the solution?
Clearly there is a reason why you are choosing a new CX solution, so be honest about this. What is the pain point you are looking to solve? This may initially feel difficult to talk about, as it could mean admitting that part of your CX program is not going well, but if you are not outlining the purpose, vendors won't know how best to meet your needs. By focusing on the pain point, rather than on particular technologies, it also gives people the chance to propose the best solution for the problem, rather than being constrained by more rigid technical criteria.
3 What is the goal?
What do you expect a successful solution to deliver? What metrics are you looking at? How will you measure them? This gives vendors the chance to reference similar customers and to outline how they have met their goals, helping provide evidence in the selection process.
4 Include both Needs and Wants
There will be certain functionality that is absolutely necessary to your project, while other areas would be 'nice to have'. Be clear which are mandatory and which are optional – otherwise you risk presenting vendors with a long list of requirements, with no-one able to meet every one of them effectively. When putting together your lists look forward to include your future needs, and talk to people from across different departments involved in CX to capture all of their input. Also, make sure that you are clear on any red lines, such as needing the solution to met certain technical specifications, for example, such as being SaaS-based or integrating with existing technology.
5 Define your evaluation criteria
Explain how you will review the proposals that you receive, and which areas will be most important to you. If the decision is focused primarily on Return on Investment and price, then say this up front, so that vendors can respond accordingly.
6 Timeline
Build a realistic timeline, both for the evaluation and purchase phase, and also for the implementation. When does it have to go live? Are there constraints, such as availability of IT resources or particularly busy periods for the business, that need to be taken into account? Always bear in mind that you need significant senior involvement to choose the right CX solution, so get meetings in their diaries early. Give vendors enough time to respond effectively with a personalized proposal, including time for a potential discussion if they have any queries on the RFP itself.
7 Budget
To get sign-off on your project you'll have had to build a business case, including a budget, for senior management to review. Therefore, make sure that you are clear on the budget you provide in the RFP, and ensure that it includes everything that you will need (solution, implementation, training), so that there are no hidden costs later on.
A well-written RFP is at the heart of choosing the right CX solution to take your business forward. Therefore ensure that you put in the time and effort to get the best possible responses from vendors, helping to deliver the CX performance that you need for your organization to thrive.
Categories:
Best Practice
You might also be interested in these posts: