Making it easier for your agents to deliver superior CX
Published on:
July 31, 2018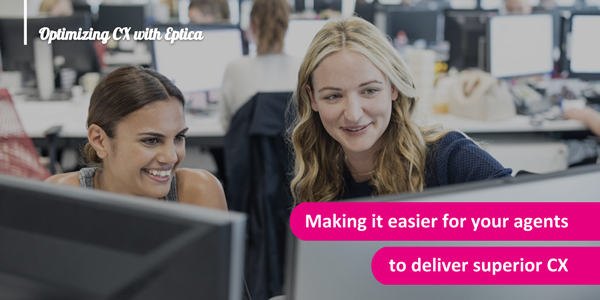 Optimizing CX with Eptica
When it comes to the contact center, there is a clear link between happy agents and overall performance. Satisfied employees are likely to be more engaged, give better service, stay for longer and are generally more productive. At the same time, working in customer service is a stressful and high-pressure job. No wonder that an average of 21% of agents leave their jobs every year, with more than 1 in 5 companies experiencing annual attrition rates of over 30%, according to Contact Babel.
Reducing agent attrition starts with the tools you give them to do their jobs. This blog post, part of our series on optimizing CX with Eptica, therefore focuses on how our customer experience platform makes it easier for agents to operate effectively and happily. To read the first post, on reducing Average Handling Time and improving quality, click here.
Here are five ways that Eptica improves the agent experience, with all the benefits that this delivers to your business and your customers:
1. Fast access to customer information
Agents need to be able to see as much information as possible about customers when talking to them or responding to their queries. That's why Eptica provides a full history of previous customer conversations and current, open interactions. Through its open API it can also link to other customer-facing systems, such as CRM, ensuring agents always have the latest, most up to date information. This gives the full context that enables them to answer accurately and quickly, without needing to open other systems, thus reducing stress and boosting productivity.
2. Knowledge to empower agents
Eptica's platform is built around a centralized, AI-powered knowledge base. This ensures that agents have access to the latest information, whatever channel they are working on. For digital interactions they can choose templates, based on analysis of the incoming messages, empowering them with knowledge and allowing them to focus on personalizing the response. Features such as 'best templates' and 'favorite templates' mean they can provide answers more quickly, confident that these are both accurate and consistent.
3. Share knowledge quickly and easily
Knowledge is always changing, meaning that it has to be constantly updated. Eptica makes this easy – agents can provide feedback on answers from the knowledge base, and flag areas where improvements would be helpful. They can ask for new answers and templates if none exist, with a built-in workflow making it easy for these to be created, updated and managed.
4. Have a better working experience
Expectations around technology are high – agents, as with other employees, want the systems they use to be easy, intuitive and supportive. Eptica's customizable interface allows companies to tailor the platform to agent needs, including incorporating branding and update areas that show the latest changes to information or processes. Access to the knowledge base means that all staff, especially new starters, can find the answers that they need, reducing training needs and getting them up to speed quickly.
5. Increase productivity through automation
Eptica allows agents to focus on answering customer queries, rather than administration, through a range of automated features. Messages can be automatically assigned to those with the most relevant skills or knowledge, avoiding the need to forward them on or transfer callers. Eptica's interface can be tailored to the specific role of agents, removing irrelevant or unneeded buttons, while a constantly-updated list of specialists making it easy to ask for more information if required from colleagues within the company. Eptica's automated online capabilities help deflect more basic requests, providing answers either through web self-service systems or chatbots, reducing the load on agents and thus improving productivity.
Keeping agents engaged is crucial to the customer experience. With Eptica, you can ensure that they are able to perform effectively, boosting job satisfaction, reducing attrition and contributing to increased customer loyalty and bottom-line revenues. To find out more about optimizing your Eptica system, simply contact your account manager, who'll be happy to put you in touch with our professional services team who can provide training and advice.
Categories:
Product, Best Practice
You might also be interested in these posts: