Meeting the CX needs of the connected consumer
Published on:
December 06, 2017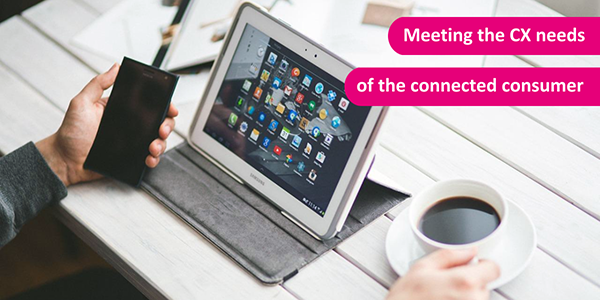 We live in the age of the connected consumer. Everyone understands the huge amount of time people spend on their mobile devices, such as smartphones and tablets – there is even a term (Nomophobia), describing the increased anxiety we feel when we are away from our mobile. Consumers are connected all through the day, using their devices from when they wake until last thing at night.
However, we're also seeing the rise of a whole range of new devices, such as voice controlled digital assistants, smart watches, wearables and smart TVs, that mean consumers are now simultaneously connected in multiple ways. People want to use these to communicate through text, rather than voice, whenever and wherever they are.
What does this mean for customer experience and customer service? How can brands ensure that they understand the needs of connected consumers and are delivering an experience that meets their increasing demands? There are four factors that brands need to focus on:
1. We live in an always-on world
The amount of time consumers expect to wait for information is shrinking, and connected consumers are the least patient of all. For example, Eptica research found that 44% of people said they wanted an answer on Facebook in 30 minutes, and 62% on email within 2 hours. And this expectation runs 24x7 – they want a fast, accurate, helpful response whatever time of day or night they make contact, and whatever the channel.
2. We live in a cross-channel world
When it comes to making contact, consumers have a wide range of devices and an even wider range of channels that they want to use. And they want to be able to start a conversation on one channel and continue it seamlessly on another, without having to repeat themselves or enter information again. They expect companies to be able to join-up all the channels that they offer and deliver a consistent experience across all of them.
3. We live in a world driven by emotion
Connected consumers are time-poor and knowledge-rich. Therefore, to engage with them you need to differentiate your brand by appealing to their emotions. They want a personalized service that understands their individual needs and reinforces key emotional motivators such as self-identity, freedom and security. No wonder that analysts such as Forrester rate emotion as the key area where brands need to improve the customer experience.

4. We live in a world of connected experiences
As well as appealing to their emotional needs, brands need to ensure that they are offering a compelling experience to connected consumers if they want to stand out. That means going beyond the basics to wow them at key moments on the customer journey. In turn, this requires brands to embrace consumer psychology, designing experiences that are tailored to the desires of their particular customer demographic. Delivering this level of experience will help drive loyalty and turn customers into brand advocates who recommend you to their family, friends and the wider world via social media.
Success in engaging with connected consumers therefore relies on putting their needs first, and means embracing psychological techniques such as:
Reciprocity – offering them something that they want to cement the relationship
Commitment and consistency – delivering the same high level experience, every time
Authenticity – building a genuine experience, based on customer needs
Personalization – treating them as individuals, based on what you know about them
Be emotional – appealing to their positive emotions
No matter how well trained your customer service agents are, and how slick your online journey is, manually meeting the needs of connected consumers is difficult – particularly at scale. The good news is that technology such as artificial intelligence (AI) and Natural Language Processing (NLP) can now underpin your CX, analyzing incoming interactions and helping agents to have a meaningful, consistent and personalized conversation with consumers. By providing a deeper understanding of what consumers are looking for, along with immediate access to the right knowledge, AI-based systems enable agents to focus on what humans are best at – building a relationship based on empathy.
Categories:
Best Practice, AI, Trends & Markets
You might also be interested in these posts: