Moving to the 3Cs model for CX: Conversational, collaborative & cognitive platforms
Published on:
February 08, 2017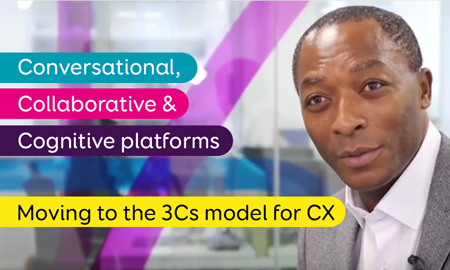 Companies and their CEOs understand that the world is changing rapidly when it comes to winning, satisfying and retaining customers. Consumers are now more demanding than ever before, across a greater number of channels, and they increasingly focus on the experience they receive when deciding which companies to buy from. At the same time competition is increasing, with digital transformation breaking down barriers in every industry, enabling new entrants to disrupt even the most traditional markets.
No wonder that in 2016 Gartner research CEOs listed customer experience as their second biggest priority, directly behind business growth. 37% listed customer experience management software as their top technology investment over the next five years.
To succeed in this new environment, organizations need to change how they look at customer experience, moving away from simply interacting with consumers to holding a two way, ongoing dialogue, focused on three areas:
1. Conversational
Previously companies treated every interaction with a consumer as a separate, individual event, and organized themselves to respond in a transactional, channel based manner. A customer made contact via a particular channel, they received an answer and the company measured success on metrics such as the speed and volume of responses sent. In the age of the customer, this is no longer enough – in order to understand consumers better and to build long term relationships, organizations need to be having an ongoing dialogue with their customers. This should seamlessly span every interaction, and every channel and touchpoint, with brands using the insight customers provide to know them better and strengthen relationships.
2. Collaborative
Everyone within an organization has a part to play in delivering the customer experience that consumers demand. That means focusing on all the skills within a business to deliver customer service, breaking down departmental barriers and silos. To start, companies should ensure that all incoming contacts from customers are brought together in a single flow, shared by all teams, across every channel, in order to speed up response times and build a deeper, more meaningful relationship. This workflow should extend beyond the customer service department, making it easy to route relevant questions, queries and feedback to the right person, wherever they are in the organization.
Knowledge is at the heart of talking to customers successfully and this needs to be consistent and available across every channel. Organizations therefore need to underpin their conversations with a single, centralized knowledge base that is continually learning and being updated based on the daily dialogue businesses are having with customers.
3. Cognitive
The rise of artificial intelligence (AI) is transforming how organizations deliver their customer experience. It enables companies to go beyond simple automation to boost understanding of what customers are looking for, and to use their questions to power more productive, deeper conversations. However, simple machine learning, which digests millions of interactions to deliver the statistically strongest response is not enough for the conversational customer experience that consumers demand. Instead, what is needed is to use AI techniques such as Natural Language Processing (NLP) to understand a query, based on the language the consumer is using, and search a knowledge base to deliver the best response to that individual question. Every consumer is an individual and wants to be treated as such, rather than simply be provided with an approximate answer that has been given to thousands of others.
Customer experience is at a turning point – it has never been more important, but at the same time how companies deliver the experience that consumers want has to change. They need to adopt platforms and strategies that are conversational, collaborative and cognitive if they are to consistently deliver what consumers want and therefore build long-term relationships that safeguard the future of their businesses.
Take a look at how Eptica's technology underpins the 3Cs approach in our latest video.
Categories:
Best Practice, Artificial Intelligence, Trends & Markets, Product
You might also be interested in these posts: