Moving off the customer service treadmill
Published on:
May 11, 2016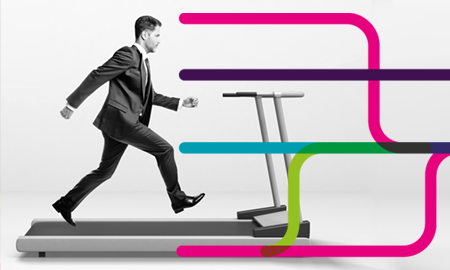 At a time when brands face an increasing volume of customer service interactions, across more and more channels, some may feel tempted to question whether they will ever get on top of delivering the service that consumers want. It can feel like they are running on a treadmill with the pace continually being ramped up, increasing the likelihood that they'll be catapulted off the end before too long.
This is the point where it is worth reminding yourself of the financial and reputational impact of poor service. According to analyst Esteban Kolsky of thinkJar:
66% of consumers cited bad service as why they stopped being a customer
Only 1 out of 26 unhappy customers complain. The remainder simply leave
85% of customer churn due to poor service was preventable
55% of consumers are willing to pay more for a guaranteed good experience
13% tell 15 or more people if they're unhappy
Research from NewVoiceMedia backs this up. It found that 58% of consumers will leave a brand that they feel has let them down, costing US businesses alone $41 billion. Given that competition and consumer choice is increasing rapidly, this means every organization needs to take customer service seriously.
So how can businesses deliver the service that customers want? There's obviously no single answer, but it is vital to develop a strategy that is based on these four key areas:
1. Let your customers use their channel of choice
There is a growing number of channels available for customer service, from the telephone and email to the web, social media and chat. Each has its advantages and disadvantages, both from the customer and brand point of view. What is critical is that it is as easy as possible for customers to contact you through their channel of choice – so analyze the channels your target audience uses most, and make sure you offer them. Nothing annoys a customer more than being forced to change channels for no good reason – it breaks the journey and can lead to them going elsewhere.
2. Enable customers to have conversations with your brand
Truly engaged customers feel they are having a conversation with your company and that you understand what they are saying, empathize with their needs and are happy to help sort out any issues that arise. This relies on empowering your agents so that they have the skills, tools and, above all, the knowledge to confidently provide solutions to problems. Invest in a centralized knowledge base that is continually updated, and use linguistics software to better understand the tone of customers so that you can respond with empathy and understanding to solve their query.
3. Be smart with your resources
All of these channels, combined with the rising volume of interactions, does mean you need to invest in customer service. But that doesn't mean you can't be smart and efficient in how you operate. Centralize as much as you can and remove silos between channels and departments. For example, use a single, self-learning knowledge base to deliver information and answers on the web and to agents answering the phone, email, and on social media. Deflect as many basic questions online through web self-service, avoiding the need for customers to make contact when they simply want a fast, routine answer. Also, consider creating multi-skilled teams, so that they can be switched from channel to channel to match incoming volumes – there's no point one set of agents sitting idle while another is overwhelmed.
4. Continually learn and innovate
Consumers are becoming more and more demanding, meaning you need to continually improve the service you provide. This can seem daunting, but a good way is to benchmark yourself against your competitors, and also organizations that are well-known for the excellent service they provide. What do they do differently? What can you replicate? Also look to improve your own processes by testing your systems and learn from customer feedback and queries to plug any gaps in the information you provide online.
Getting off the customer service treadmill requires companies to take a step back and look at what they are doing, what consumers want and how they can change and adapt to meet their needs. The rewards are potentially great – not only will happy customers stay, but 72% will share a positive experience with six or more people, according to Kolsky. It is therefore time to ensure your customer service can meet consumer needs, now and in the future.
Categories:
Best Practice
You might also be interested in these posts: