National Customer Service Week 2019: The 3 key factors behind successful customer service
Published on:
October 09, 2019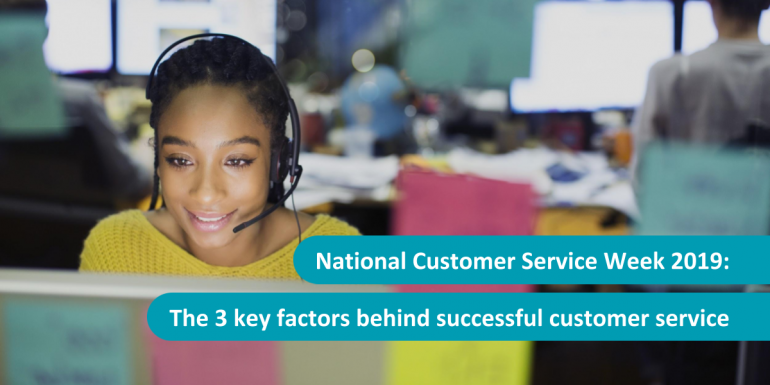 We're now partway through National Customer Service Week (NCSW), which runs from the 7th-11th October. This annual global event is the perfect opportunity to emphasize the importance of customer service to the bottom line. Good service builds trust, which in turn creates happy, loyal customers who spend more and stay longer with a brand. 79% of consumers that lose trust will leave a brand – with 49% doing it immediately. Getting service right first time also safeguards the brand reputation and increases internal efficiency.
Different places around the world are celebrating NCSW in different ways. In the United States, activities focus on the theme of Every Experience Counts, looking at the importance of both delivering consistently good service every time, and providing employees with an experience and environment that motivates them to do their best.
In the United Kingdom, there are daily themes, each emphasizing different aspects of customer service. In the run-up to the event we've created blogs on each of these, which you can click on below:

Across the Channel in France, the focus is on consideration. This covers understanding and providing the service and experience that consumers and society demand, and can only come from all staff working together, across departments, in a customer-centric culture.
Looking across these varied themes they share three common factors – you need to get all of these right if you are to deliver the service and experience that today's consumers expect.
1. Focusing on your agents
NCSW rightly celebrates the efforts of customer service agents, putting the spotlight on their work across the whole year. Given their position on the frontline of the customer/brand relationship, ensuring that your agents are motivated, happy and able to provide the best possible service is clearly vital. This isn't just about recognition once a year, but providing them with an environment that is stimulating, varied and supportive. Set up recognition programs, with the right metrics, to really increase morale - not just of the winners but of the entire team.

2. The right technology
The past 15 years have seen telephone-based call centers grow and expand to become multichannel contact centres, handling a growing volume of interactions across a widening number of channels. Companies need to be sure that they have the right technology in place to support this shift and to give agents the tools they need to work effectively. Delivering excellent service requires a combination of people and technology – for example, look at using AI and text analytics to automatically analyze incoming interactions and to then recommend relevant answers and templates. Technology can also lighten the load on contact center agents and the wider business, with self-service deflecting queries as consumers are empowered to find their own answers online without having to make contact.

3. Creating a customer-centric culture
NCSW shouldn't be the only time that the wider organization hears about the contact center and the role that agents play in business success. Companies need to ensure that they have a customer-centric culture in place that supports service across the organization, all year round. This needs to be led from the top, with senior management and the CEO focused on customers, structuring the business to ensure it is agile and responsive to their needs. It has to go beyond a mission statement to cover actual behaviors on a day-to-day basis. Achieving this means listening to customers effectively, through Voice of the Customer programs that provide holistic customer intelligence that can be shared and acted on across the business. While it is great if the CEO visits the contact center during NCSW, in today's world of rising consumer expectations, senior management should be constantly emphasizing the importance of service to organizational success, and acting on it.

Wherever you are, National Customer Service Week is a vital chance to highlight the role that service plays in business today. Better yet, keep the focus on it all year round - offering better support for agents, reviewing technology and maintaining a truly customer-focused culture. Easy!☺
Categories:
Best Practice, News
You might also be interested in these posts: