Supporting excellence through National Customer Service Week
Published on:
September 25, 2018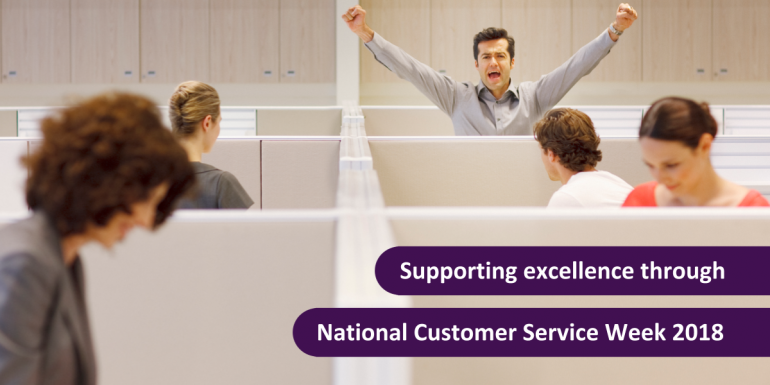 Delivering excellent customer service has never been more important to the bottom line. At a time when barriers to competition are falling and consumers are becoming more demanding, it is only those brands that can differentiate themselves through superior customer experience that will achieve lasting success. No wonder that, according to Forrester 84% of companies see CX as a higher priority than they did two years ago.
At the same time CX is undergoing rapid change. Artificial intelligence is transforming the industry, while consumers are increasingly looking to use new channels such as chatbots. Customers want to have more meaningful, engaged conversations with brands if they are to remain loyal for the long-term. This means that the skills agents require will change, with a greater focus on areas such as empathy and compassion, as brands balance the use of AI and the human touch.
The beginning of October is when the industry celebrates National Customer Service Week on both sides of the Atlantic. Running from 1-5 October 2018, the event marks the perfect time to look at the current success of the industry and how it should look to evolve moving forward. In the US, this year's slogan is "Excellence Happens Here", a reminder that wherever and whenever employees are interacting with customers, they should strive to deliver true service excellence.
In the UK, organizers at the Institute of Customer Service are adopting a different approach, theming each day and using this to explore the issues and opportunities for the industry:
Monday – Insight: Knowing your customer and how to deliver to them

Tuesday - Agility: Adapting to today's new realities

Wednesday – Skills: Identifying and nurturing customer service skills in your organisation

Thursday – Leadership: Championing customer service in the boardroom

Friday – Recognition: Celebrate your customer service heroes
Underpinning all of National Customer Service Week's activities are three key factors:
1. Customer experience is business critical
Multiple research studies show that organizations that score highly for customer experience achieve greater revenues and higher stock prices. Delivering superior customer service isn't just a nice to have – it is a business imperative. That means it needs to be championed by senior management and adopted by the whole company. It shouldn't just be the responsibility of customer service agents or contact centers – everyone has a role to play.
2. Brands need to balance technology and the human touch
Amidst all the talk of AI, it is vital not to overlook the importance of human agents to delivering customer service. For many routine interactions customers are happy to get information through AI-driven channels such as self service or chatbots, but for others they will want the reassurance that comes from interacting with an agent. Therefore, companies need to offer customers a choice and ensure that it is seamless to move between human and AI-powered channels as part of a single, ongoing conversation.
3. Empower your agents
Customer service agents are on the frontline, speaking to consumers constantly. They are the voice of your organization and you will be judged on their performance. So, make sure that you are providing them with the skills, training and support to excel in their roles as ambassadors for your brand. This is particularly key as we move towards the busy Christmas period, which sees customer service teams expand to cope with demand. Give agents access to the knowledge they need to respond effectively to consumer enquiries, deploy AI to help by analyzing digital messages for their meaning and tone, and ensure that staff have a complete picture of all customer interactions to ensure they deliver joined-up, informed service. At the same time, use National Customer Service Week to celebrate their successes and show that they are valued across the wider business through events and other activities.
Clearly, customer service is vital to businesses all year round – but National Customer Service Week provides the opportunity to focus the entire organization on its importance, learn from successes and plan for the future, whatever type and size of company. Enjoy!
Categories:
News, Best Practice
You might also be interested in these posts: