Three books to help you master the power of AI
Published on:
May 08, 2019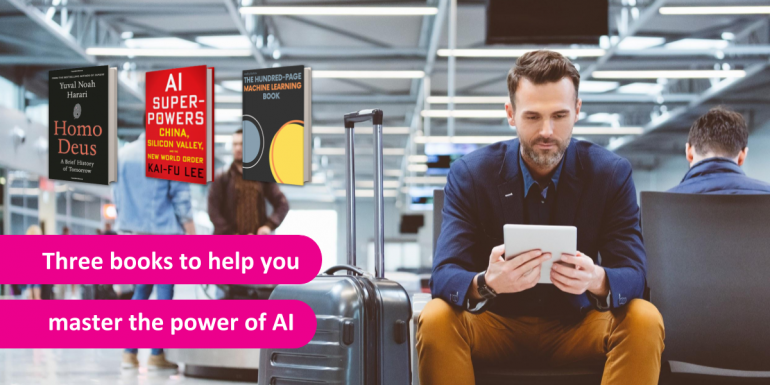 Artificial intelligence is one of the most-talked about topics in the world today, with stories about its benefits and potential negative effects continually cropping up in the news agenda. However, it is important to look behind the headlines in order to understand its real impact, what it involves and how it can be deployed across a range of industries, including customer experience.
To help executives cut through the noise Eptica's Managing Director and CTO, Pascal Gauvrit picks three books to read if you want to improve your understanding of AI. This is part of our regular series of book reviews – do catch up with Olivier Njamfa's selection of titles around trust and Taoufik Massousi's choice of Voice of the Customer works if you've not read them already.
1. AI Super-powers
by Kai Fu Lee
Written by one of the most prominent figures in the Chinese AI and internet sector, this book paints a devastating picture of the impact that AI is going to have on the world. On the negative side, it outlines a widespread loss of jobs, leading to increased income inequality in society and between nations - with developing countries hit hardest. Amongst all the troubles, Kai-Fu Lee believes that the AI-superpowers – including the US and China – will be the main beneficiaries of this transformative change.
The author, Kai-Fu Lee, is the former president of Google China and currently CEO of a Chinese VC firm that invests in AI. He has thirty years' experience in AI research, with a PhD from Carnegie Mellon University and his blog on Sina Weibo has over fifty million followers.
While Lee outlines the negative repercussions of AI, he also suggests that the huge productivity gains it will drive can help redress the balance. In the book, he argues that AI can fund a new social contract between private enterprise and the public sector to create more human-oriented service jobs where compassion and empathy can be a force for good, such as caregivers, health workers, and educators.
2. The hundred page machine learning book by Andriy Burkov
Machine Learning (ML) is one of the central concepts in AI, which I've covered in a previous post, and this book – as its name suggests – does an amazing job in providing a truly concise yet thorough introduction to this important topic in around a hundred pages.
Covering both the essential theoretical models that underpin ML, as well as providing practical learning exercises and examples, it is aimed at budding engineers and data scientists who want to make ML a career and those who are just curious to know what it's all about.
The author Andriy Burkov has a Ph.D. in Artificial Intelligence and currently heads up a team of machine learning developers at Gartner.
3. Homo Deus by Yuval Noah Harari
While it's not strictly a book about AI, this is an insightful investigation into how technologies such as AI, genetics and robotics are going to shape the future of mankind.
Mixing science, technology, history, philosophy, sociology and ethics, the author, Dr Yuval Noah Harari - who has a PhD in History from the University of Oxford, reminds us about the big questions we need to answer in the 21st century. We will depend more and more on algorithms, bringing both challenges and opportunities for humanity. He outlines a potentially scary vision of what the future could look like if we carry on unthinkingly along the same path. Very readable and extremely thought-provoking.
Of course, many people want to know how AI can help them deliver a better customer experience. To help I've written a series of blog posts that outline how many of the key concepts outlined in the books above can be applied successfully to customer experience – and which are irrelevant to your job. The first post covers the difference between bots and chatbots, with the second and third discussing different parts of AI and their impact on CX.
Read any of these books? Please leave your feedback in the comments section. If there are other titles that you would recommend, then do let us know. We'll try to review them in a future post.
Categories:
AI, Best Practice, Artificial Intelligence
You might also be interested in these posts: