Three books that highlight the importance of the Voice of the Customer
Published on:
March 27, 2019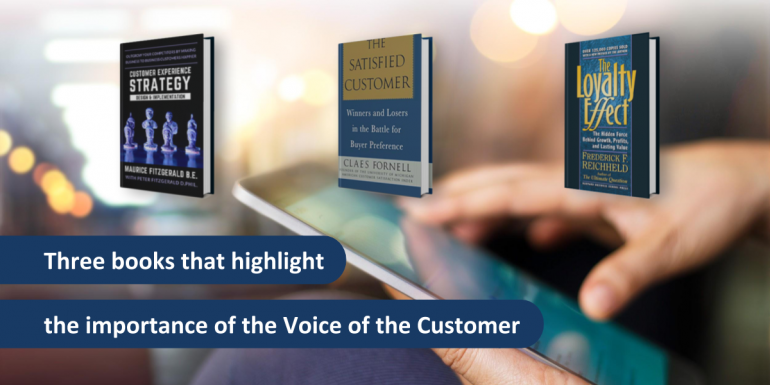 In a previous post, Olivier Njamfa reviewed his five favorite books on the subject of trust and the customer journey. In this next installment in our ongoing series of book reviews, I'm going to share three books that all touch on the importance of understanding the Voice of the Customer.
1. Customer Experience Strategy - Design & Implementation
By Maurice FitzGerald
Brands often have lots of ideas for how to improve the customer experience – too many to implement them all. That makes choosing the right ones for your business difficult. In this book, customer experience champion Maurice FitzGerald suggests that the key to success is not assuming you know what your customers want. Instead, you have to ask them.
Based on FitzGerald's 40-year career that covers brands including Wrangler Jeans, DEC, Compaq and HP, the book explains and analyzes a variety of approaches to collecting feedback from customers. It provides a practical methodology for studying what your customers want and how you can use those insights to inform an effective customer experience strategy. What's particularly valuable is that all of these approaches are proven, having been applied successfully by FitzGerald in both small companies and large enterprises.
2. The Satisfied Customer: Winners and Losers in the Battle for Buyer Preference
By Claes Fornell
My next recommendation is from Professor Claes Fornell, who developed the American Customer Satisfaction Index (ACSI), the cross-industry benchmark that measures how consumers feel about the products they buy. In this book, Fornell offers a wealth of practical advice on how brands can prosper in modern markets in which the balance of power has shifted dramatically in favor of the customer.
Fornell explains how to quantify and increase the value of a firm's customer relationships--what he calls the Customer Asset – using examples from the likes of Amazon.com, American Airlines and Best Buy. As part of this, he draws some interesting, counter-intuitive conclusions. For example, he suggests that exceeding a customer's expectations might actually be a risky proposition as it raises the bar for the future and that instead of seeing an increase in customer complaints as a cause of concern it could actually be a good thing as it gives invaluable data for making improvements.
3. The Loyalty Effect: The Hidden Force Behind Growth, Profits, and Lasting Value
By Fred Reichheld
Finally, I'd recommend this classic work, in which Fred Reichheld, the creator of the Net Promoter Score, aims to persuade businesses that even the smallest improvements in customer and employee loyalty and retention can drive long term growth and profit. In it, he clearly demonstrates the powerful economics of loyalty, quoting examples from brands such as Toyota/Lexus and MBNA who have built their success with loyalty as a guiding principle.
Drawing on ideas he absorbed as a Bain and Co consultant, Reichheld's view is that loyalty-based management is the antidote to strategies that accept high rates of customer and employee churn. He points out due to this lack of loyalty many major corporations now lose half their customers in five years and 50% of their employees in four. Showcasing how loyalty can be a powerful engine for business growth, he contends that if you can concentrate on "finding and keeping good customers, productive employees and supportive investors" you'll continue to generate "superior growth".
If you've read any of these books, leave your feedback in the comments section. And let us know if there are other titles that you would recommend. We'll look to review them in a future post in this series.
Categories:
Best Practice
You might also be interested in these posts: