Transforming customer experience in local authorities
Published on:
August 01, 2017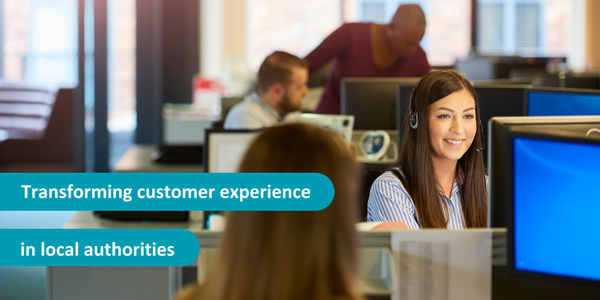 The public sector faces three key challenges, particularly when it comes to customer experience. Firstly, in an age of austerity, there is growing pressure on resources, meaning it needs to become more efficient continually. Secondly, citizens expect the same level of high-quality service when interacting with public sector bodies, such as local authorities, as when dealing with organizations in any other sector, such as retail or banking. And finally, individual public bodies are often incredibly complex, providing a much wider and more disparate range of services to citizens than private companies. This can make delivering a seamless, consistent experience difficult due to the number of people and departments involved.
The UK Government has recognized these challenges, and also how digital technology can be used to overcome them. The Government Transformation Strategy (GTS), published in February 2017, looks at how technology can be used to drive change across the public sector. Building on the work of the previous Digital by Default initiative, it was described at launch as "the most ambitious programme of change of any government anywhere in the world," by Ben Gummer MP, then the Minister for the Cabinet Office.
The GTS has three key components:
Transforming citizen-facing services to continue to improve the experience for citizens, businesses and users within the public sector.
Full department transformation to improve citizen service across channels and improve efficiency.
Internal government transformation to enable better collaboration and the delivery of digitally-enabled change more effectively.
The onus is on local authorities to transform their customer experience, but how can they deliver this, particularly with the current pressure on resources?
The key is to centralize knowledge and make it easy for staff and citizens to access it, through their channel of choice, from social media and the web to email and chat. By building a single knowledge base that spans the organization local authorities can deliver three key benefits:
1. Faster response times, on more channels
As mentioned before, citizens expect the same fast, seamless service from the public sector as from their favorite retailer. Speed is key to this. A centralized knowledge base underpins this, as it can be deployed on the web (through self-service systems and chatbots) and to assist agents answering queries on the phone, email, social media and chat. Faster response times, particularly around routine queries, helps improve the experience for citizens, boosting satisfaction.
2. Greater productivity and efficiency
Building on the benefit of faster answers, arming agents with knowledge increases their productivity, enabling them to respond to more queries, while still maintaining the highest levels of service quality. They can, therefore, be more efficient, helping bring down costs and do more with less.
As queries are dealt with faster, and receive consistent, accurate responses, there is no need for citizens to contact councils again, increasing First Contact Resolution rates and lowering the overall number of inbound enquiries. At the same time using knowledge to power self-service will deflect many routine queries, as citizens find the information they need without having to pick up the phone or send an email.
3. Improved feedback from citizens
Digital technologies fundamentally change the relationship between citizens and the public sector, allowing people to share their experiences and feedback not only with local authorities but also family, friends and contacts on social media in a very visible way. This feedback is invaluable to improving public services and ensuring they fit with people's needs. For example, analyzing the questions that citizens ask pinpoints areas where more information is required online or website pages need to be simplified and clarified.
The Government Transformation Strategy provides the whole public sector with a framework to help improve the service it delivers through digital technology. Citizen expectations are continually rising – councils should, therefore, look at making digital transformation central to their strategy moving forward. For local authorities, the first step to transforming the experience for citizens is to focus on centralizing knowledge and then using it to deliver gains in terms of service, speed, productivity and efficiency. The time to start is now.
Categories:
Trends & Markets, Best Practice
You might also be interested in these posts: