Turning customer experience into competitive advantage
Published on:
October 24, 2017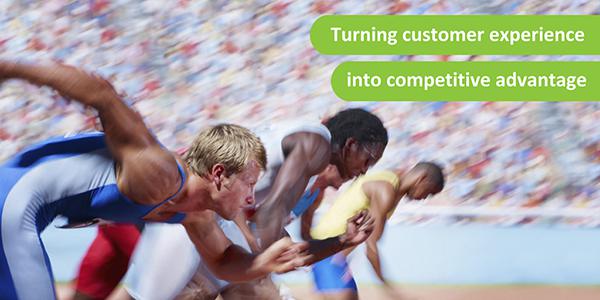 Customer experience is becoming the primary differentiator for brands, whatever industry they are operating in. At a time when the competition is ever-increasing, the experience that consumers receive is central to attracting and retaining their business, and therefore to the company bottom line. It has never been easier to switch supplier – and consumers are happy to vote with their feet. No wonder that Gartner believes that 50% of marketing investment is now being spent on improving customer experience.
The increasing emphasis on customer experience is being driven by three key trends:
1. Technology
The rise of digital, mobile and social media has transformed how consumers interact with brands. As well as a wider number of channels, the always-on, real-time nature of the internet and social media means that consumer patience is constantly reducing, with customers less and less willing to wait for answers.
2. Consumer expectations
As well as being less patient, consumers constantly expect more from the brands that they interact with. Their standards are continually rising, and they want the same superior experience from a utility or bank as an ecommerce retailer. Every brand is judged against the best – there are no excuses. They also look to their peers for information online – 90% of consumers trust references from family and friends, 7x more than advertising.
3. Process complexity
Previously simple, linear customer journeys are now much more complex. For example, opening a bank account may break down into 12 different steps, all affected by multiple factors. Consumers might begin online, switch to the branch, then onto social media or chat before finally signing up. This makes tracking where consumers are in the journey, and what information or support they need to move forward, much more difficult for brands.
How can brands overcome these challenges and turn the experience into a competitive advantage? There are four areas that they need to work on:
1. Take a holistic view
With so many touchpoints involved in the customer experience, it is easy for brands to feel overwhelmed. That's why it is important to take a holistic view, across the entire journey, so that you can identify what customers are looking for. Then you can use this to spot where particular pain points are, and then make the right adjustments to ensure the process is seamless from end to end.
2. Manage digital transformation
While technology has brought greater complexity to customer relationships, it also opens up opportunities to engage more closely with customers, while boosting efficiency and loyalty. Deploying artificial intelligence (AI) and Natural Language Processing (NLP)-based customer experience software can help you automate routine queries through web self-service and chatbots, providing faster, more accurate responses while freeing up agents to answer more complex queries.
3. Empower your staff
AI can also empower your staff by providing them with automatic access to knowledge and by helping them to understand the context and tone of incoming messages. For example, an email can be analyzed using NLP and automatically routed to the most relevant team to respond, along with a recommended answer and more information on the tone of the query – such as whether the consumer is happy, angry or disappointed. This allows agents to focus on the human side of customer experience, showing empathy and personalizing responses so that they strengthen the bond between company and consumer.
4. Understand your customers
Customer expectations are always rising, so it is vital to aim to be one step ahead of them, introducing new innovations that will better meet their needs. The only way to achieve this is by understanding their motivations, what drives them and what factors underpin their choices. Therefore make sure you are mining the data that they are providing to you, whether it is feedback, reviews or even the questions they ask, so you can use this insight to move your customer experience forward.
Failing to meet customer expectations is the surest route to churn, lower revenues and poor brand reputation. For brands to thrive now and in the future it is therefore vital
that they continually improve their customer experience - if they want to gain a competitive advantage.
Categories:
AI, Best Practice
You might also be interested in these posts: