What were the key CX trends in 2017?
Published on:
December 20, 2017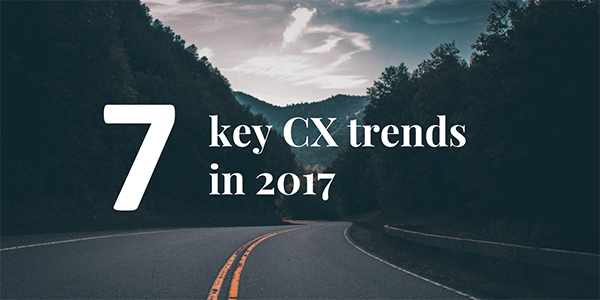 As we come to the end of a busy 2017 it is a good time to review the year, and in particular to look at the most important developments in customer experience over the last 12 months. What were the hot topics and what were the major changes in the market? Based on the topics covered in the Eptica blog that received the most interest, we've put together a top 7 posts from across 2017.

1. How to make your organization truly customer centric
Businesses understand the importance of customer experience to their bottom line, but in a complex, multichannel world, many struggle to create a culture and infrastructure that is focused on the customer.
In this post Eptica CEO and founder Olivier Njamfa explores how you can make your organization truly customer centric. Based on a presentation from Gartner's Olive Huang and Jenny Sussin, the post outlines areas such as creating empathy, sharing knowledge and ensuring accountability – all of which help deliver an improved experience to customers.

2. Chatbots and bots - what they mean for customer experience
Chatbots and artificial intelligence were the top CX technology story of 2017. Much has been written about them, and their potential, but what do they really offer and how should you incorporate them into your CX infrastructure?
Eptica has been working on artificial intelligence for CX for many years. So, to help companies, CTO Pascal Gauvrit has written a three part series explaining AI in detail, covering all the terms involved from chatbots to machine learning – read the first part here for your introduction to this vital subject.

3. Building a business case for your CX technology project
CX projects need to compete for investment against ideas from multiple disciplines across the business. How can you ensure that you convince senior management to fund your technology project?
In this post, we outline the 8 stages you should follow to create and sell your business case to the board, ensuring that they see the benefits and buy-in to the project.

4. Turning customer experience into competitive advantage
In order to deliver a superior customer experience, brands need to overcome key challenges around rising consumer expectations, the impact of digital technology and the increasing complexity of the customer journey.
How can they overcome these challenges and ensure that customer experience delivers competitive advantage to the business? This recent post focuses on 4 areas brands should work on, from empowering staff to taking a holistic view of the entire journey.

5. L'Occitane – the benefits of a global approach to digital customer experience
With its products sold in over 3,000 stores across 90 countries, L'Occitane is one of the world's most recognized natural cosmetics brands. Delivering a consistent customer experience to every one of its customers, however they make contact, is crucial to the brand and its values, particularly at a time of digital transformation.
The Eptica blog caught up with Anne-Sophie Pouyau, L'Occitane's Head of International and European Customer Service to find out how she is working with Eptica and its AI-powered conversational and collaborative solutions to boost efficiency and sales.


6. UK brands struggling with digital customer experience
Every year Eptica evaluates 100 UK brands on their ability to successfully deliver digital customer service. Replicating the consumer experience, we measured companies on their speed and accuracy at responding on the web, email, social media and chat to routine customer queries.
The results paint a picture of companies struggling to cope with the sheer volume of customer interactions they receive. As this blog post explains, overall performance is worsening, particularly on social media, and CX leaders are pulling further ahead of the laggards. Read all six key conclusions in the post.

7. How text analytics delivers customer experience value
Text analytics is at the heart of Artificial Intelligence, helping understand written interactions and providing insight that can be used to deliver a faster, more personalized experience to consumers. But how does it work, and how can it make sense of the complications of everyday language?
Following on from his series on AI itself, Pascal Gauvrit outlines the eight steps involved in text analytics, how it works, and how it then enables brands to successfully deliver a better answer to consumer queries.
We hope you've enjoyed the last twelve months of posts on the Eptica blog, and look forward to sharing more from the world of digital customer experience in 2018. Have a great holiday and see you in January!
Categories:
Best Practice, News, Trends & Markets
You might also be interested in these posts: