Which sectors do consumers trust most for CX?
Published on:
May 15, 2019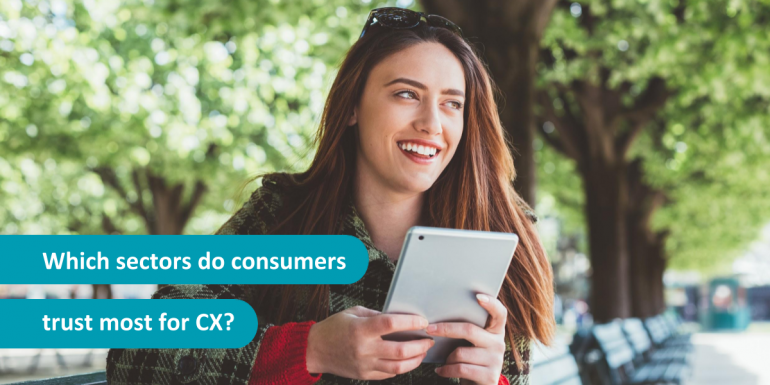 If you don't build consumer trust in your brand, you risk undermining customer loyalty and damaging sales revenue. According to our 2019 Digital Trust study, over three quarters (79%) of consumers said they would move away from a supplier if they lose trust in them. Our survey of 1,000 consumers in the UK also reveals that the level of trust people have in different types of organization varies considerably by sector. So, how does your industry compare?
The top 5 most – and least – trusted industry sectors
According to the study, the top five verticals that inspire the most consumer trust are:
Food retailers (ranked first by 21% of respondents)
Government (16%)
Banks (12%)
Ecommerce retailers such as Amazon (8%)
Financial services companies such as pension providers (8%)
Turning to the other end of the spectrum, when asked who they trusted least, consumers picked these industries:
Automotive/garages (ranked as least trusted by 16% of the sample)
Tech/social media (15%)
Insurance (10%)
Government (10%)
These differences in trust between industry sectors could be down to their historical reputation and the importance of trust. For example, consumers need to trust that food is fresh and that banks will protect their money. The overall experience delivered by brands in each sector is important too - as can be seen by the fact that the reliable customer experience of large ecommerce platforms such as Amazon is highly valued by consumers. Garages and auto repair shops have traditionally had a poor reputation, based on the fact that most consumers lack the knowledge to understand if their suppliers are being honest about the extent of repairs required to their vehicles.
Current concerns over privacy and data protection impact consumer trust in the big technology and social media giants, while, like many regulated industries, insurers and their processes are focused on legal compliance, often at the expense of delivering a simple experience.
What this means for brands in these sectors
Being in a low trust sector provides brands with an opportunity. They have the chance to rise above their rivals if they can find ways to earn their customers' trust. In increasingly 'winner takes all' markets, delivering the right experience provides competitive differentiation and greater revenues.
The Study also highlighted how trust can be earned – and it starts with the basics. For example, 63% listed "making it easy and seamless to do what I want" as one of the top three ways a brand can win their trust. Similarly, 59% highlighted "giving satisfactory, fast and consistent answers to my questions" as something that would increase the trust they have in a brand.
This focus on getting the simple things right seems intuitively to make sense. After all, if a brand fails to perform effectively in basic areas - such as answering emails in a timely manner - or has a cumbersome website that doesn't answer most routine questions - why would you trust them with more complex issues?
This all means that if organizations in low trust sectors can deliver a reliable customer experience in which they respond quickly and provide accurate information to customers' questions then they will stand out from the competition. A good example is in the insurance sector. Who is a consumer more likely to trust, and buy from, the company that provided answers to 80% of routine questions on its website, or one of the three insurers that only provided responses to 40% of them during our evaluation?
The consequences of breakdowns in trust
Thanks to expanding choice the balance of power has shifted from brands towards consumers. Which means the consequences for any brands who fail to build consumer trust are extremely damaging, particularly at a time when every sector is seeing the entry of new, innovative competitors. Many of these challengers rely on creating a superior customer service and customer experience to win over new customers. All of this means that whatever sector you operate in – building trust is one of the keys to driving loyalty, safeguarding revenues, protecting brand reputation and creating brand advocates.
Download your copy of the 2019 Eptica Digital Trust Study.
Categories:
Best Practice, News
You might also be interested in these posts: