Why automation is at the heart of improving multichannel customer service
Published on:
October 09, 2018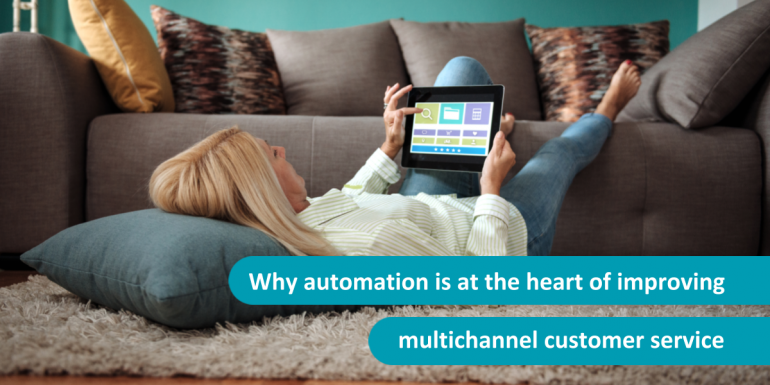 Rising customer expectations mean the experience that brands provide is crucial to the bottom line. Delivering the right level of service is at the heart of differentiating your brand and engaging with consumers.
However, these growing expectations are directly increasing the volume of interactions that brands receive, through an ever-widening range of channels. How can companies balance the need to deliver excellent service with their finite resources?
To find out, Eptica carried out research with UK consumers, aiming to understand how they communicate and interact with brands and their openness to using automated channels to find answers to their queries. Analyzing the results highlights four key points:
1. Brands face a growing volume of queries
Consumers are making contact with brands more often, and with a greater range of queries than ever before. Asked how often they interact with brands on channels such as email, the web, social media, chat and chatbots, 89% said they made contact the same amount or more often than five years ago. 48% have increased their volume of contacts while 16% more than doubled their number of interactions.
Breaking down the numbers, consumers interact with brands nine times per month on average. However, this masks a wide range - 14% say they contact companies on over 15 occasions every month.
2. Consumers want channel choice
The introduction of new channels doesn't mean that old ones disappear. Essentially, consumers want to be able to use the right channel for their needs at particular parts of the customer journey. Breaking down the channels they use shows a relatively equal split:

27% Email

17% Web self-service

17% Social media

17% Telephone

11% Chat

11% Chatbot



These figures show that brands need to ensure that they have resources in place to deliver truly multichannel service to satisfy and retain customers.
3. Customer service costs the UK over £1.2 billion per month
There are currently 52.4 million adults in the UK. Using our average of nine interactions per month, that totals 463.5 million contacts across the economy. That's more than 5.5 billion every year.
The cost of these contacts is similarly enormous. Based on figures from research by Contact Babel, we've calculated the total cost of responding to emails, social media, the telephone and chat as £1.227 billion per month, made up of:
Email - 130.6 million contacts at an average of £3.37 = £440.438m

Social Media - 77.2 million contacts at an average of £3.07 = £236.973m

Chat - 55.5 million contacts at an average of £3.82 = £211.991m

Telephone - 84.6 million contacts at an average of £4.00 = £338.315m



Obviously many of these interactions are vital to the customer relationship and preventing consumers from making contact would have a detrimental impact on loyalty and revenues. However, many are routine, with consumers only making contact as they cannot find information or solve their query themselves. If just 10% of interactions were deflected to automated channels, such as web self-service and chatbots that would save £122 million every month.
4. Consumers want to solve their own problems
Deflecting routine interactions to automated channels doesn't just increase efficiency but it is popular with consumers too. Over eight in ten (83%) already use or are happy to use self-service systems on company websites, and 64% say they are open to interacting with automated chatbots to receive answers.
Showing the impact of new AI-powered technology, over half (54%) would like to use intelligent voice assistants, such as Amazon's Alexa Google Home and Siri from Apple to interact with brands. A significant number of respondents (14%) of respondents already did so.
Eptica's research underscores the size of the challenge facing brands – and it also shows the importance of automated, self-service channels to meeting their needs. Not only does automation improve the experience and increase productivity it frees up agents to focus on more complex, detailed queries where human skills such as empathy are best deployed, boosting engagement and brand reputation. Today's customers want a mix of human and automated service, depending on their needs, meaning brands need to put in place a strategy that balances the two.
To explore the potential impact of automation on customer service, we have created the 2018 Eptica Customer Experience Automation Study. This comprehensive guide outlines the findings of Eptica's consumer research and provides a best practice guide for organisations to help them achieve the benefits of automating customer service and freeing agents to focus on higher-value conversations. Download your copy here.
Categories:
Best Practice, Artificial Intelligence
You might also be interested in these posts: