Why customer service is key to building brand trust
Published on:
August 29, 2019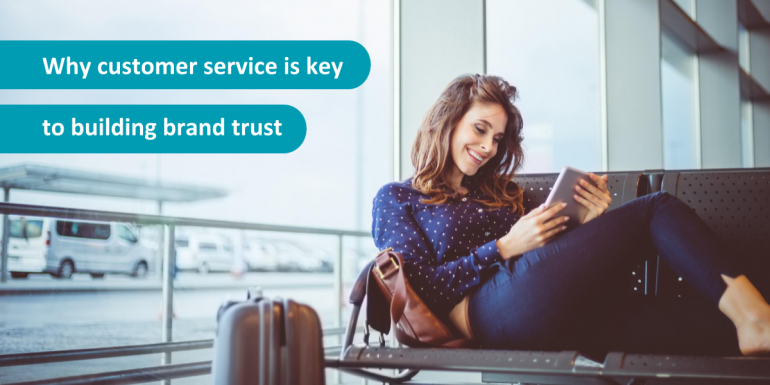 As the Summer holidays come to an end, and as customer service teams prepare for the peak Christmas season, it's the perfect time to highlight the importance of service and experience to business success.
That's one of the key reasons why National Customer Service Week (NCSW) is celebrated every year in October. Organized in the UK by the Institute of Customer Service, the 2019 program is built around five key themes. In the run-up to the event, which starts on 7th October we'll be looking at some of these areas, starting with trust.
Eptica's own research highlights the importance of trust. 90% of consumers surveyed said they'd stop dealing with a company if trust broke down, with 50% leaving immediately.
The 2019 Eptica Digital Trust Study also demonstrated the importance of customer service to trust. The two biggest factors in building trust were "making it easy and seamless to do what I want" and "giving fast, satisfactory answers when asked a question." This makes perfect sense – if a brand can't get the basics right, why would consumers engage and build a long-term relationship?
Customer service teams are at the frontline when it comes to building trust, dealing with interactions that all create or diminish confidence in a brand. So, given that they are operating on a huge scale, answering thousands or even millions of queries every year, how can companies support agents to deliver trust at scale? The key is to focus on these five areas:
1. Make it fast
We all lead busy lives, which means that consumers want quick responses to their questions. Given the speed of business today, they aren't prepared to wait around for an answer, particularly if they feel that their question is straightforward. Therefore, aim to deflect as many basic queries as possible through solutions such as self-service to enable consumers to find their own answers, without needing to make contact. This lightens the load on your customer service team while minimizing the time that consumers need to spend searching for information. Support agents by giving them access to relevant templates to make answering routine questions simple and seamless.
2. Ensure consistency and accuracy
Whatever channel they are using, consumers want to be confident that the response they are receiving is accurate. And while the format of every channel is different – for instance, you can clearly get more detailed information into an email than a tweet, the answer must be consistent to avoid confusion or internal issues. However, many customer service teams are organized into silos that don't share knowledge, creating inefficiencies. For example, in Eptica research with UK brands, only one company (out of 50) successfully answered questions on email, Twitter, Facebook and chat, and then it gave inconsistent responses to the same question on different channels. Implement a centralized knowledge base that can be accessed by all staff (and through self-service and chatbots) to ensure consistency and faster replies.
3. Create time to empathize
To build trust consumers want to be treated as individuals, with companies demonstrating that they value the relationship and want it to continue. This is why it is important that agents show empathy and understanding of the customer's situation. This is particularly difficult on digital channels, such as email and chat, where agents don't have the benefit of hearing or seeing the customer when interacting with them. AI-based technology can help here, providing the ability to analyze incoming digital messages and deliver an accurate assessment of tone, whether the customer is happy or sad, helping the agent respond accordingly.
4. Listen and act to solve issues
Over 9 in 10 consumers interviewed by Eptica said brands didn't listen to them all the time – with 18% believing that they never listened. Not only is listening key to building trust but it is also central to understanding what customers want. Empower your agents by giving them the systems and autonomy to track down the right information in order to solve problems, without needing to pass queries onto other teams, if possible. When you do need expertise from other parts of the organization, ensure you have the monitoring and SLAs in place to guarantee a timely, helpful response that satisfactorily deals with the customer's issue.
5. Embrace a culture of continuous improvement
Given the choice at their fingertips and the pressure on their time, consumers today are more demanding than ever before. To meet these expectations brands need to be continually improving and meeting their needs in order to build and retain trust if they don't want them to go elsewhere. Such is the pace of change that what is seen as excellent customer service now, will be run-of-the-mill in a few months' time. The only way to consistently match and exceed expectations is to use the insight your customers provide to continually improve. Again, AI can help by analyzing digital interactions at scale and sharing this insight with relevant teams. This drives ongoing improvements in how brands operate at all levels, ensuring that they remain trusted and competitive.
Ahead of NCSW, we'll be blogging regularly on the key themes that the week will focus on – do come back as we look at Recognition and Insight in future blog posts.
Categories:
Best Practice
You might also be interested in these posts: