Why focusing on CX is key at times of change
Published on:
February 06, 2019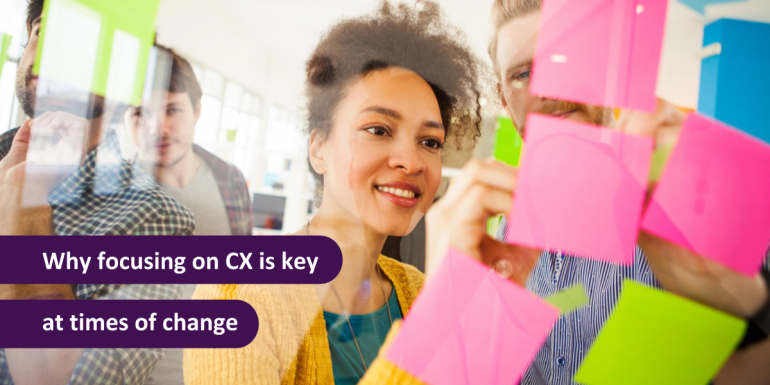 Most industries today are radically different compared to 20 or even 10 years ago. Giant businesses such as Kodak, Toys R Us and Blockbuster have all disappeared. Other companies have merged or transformed what they do. Showing the speed of change, in 2008 the five largest global companies were PetroChina, Exxon, General Electric, China Mobile and ICBC (China). Fast forward ten years and all of these have been displaced by Apple, Google, Microsoft, Amazon and Facebook
This disruption is continuing across most industries. For example, automotive and oil companies need to transform to deal with the rise of electric and autonomous vehicles, while banks face competition from nimble fintech upstarts.
All of this means that established businesses have been forced to focus on how they can change and restructure themselves in order to compete and survive. They might split into different companies or business units, merge or acquire rivals or organizations in related fields. Sometimes, rather ironically, the whole change process can have the opposite effect and rather than strengthening customer trust it can damage or destroy it. Management is distracted, new systems go wrong, or staff become demotivated as they worry about their roles (witness the chaotic customer damage at TSB when five million customers were experiencing payment problems because of IT restructuring following its acquisition).
In short: change is disruptive and risky. Why else do more than eight out of ten digital transformation programs fail?
How can you overcome the risks posed by change and restructuring? There are three key considerations – and they all have customer experience at their core:
1. Listen to customers – and act on their insight
To ensure that your changes are having the right effect, you need to understand what your customers are saying and feeling about you. That means going beyond traditional Voice of the Customer (VoC) surveys, which only provide part of the picture and can take too long to deliver valuable insights. What's more, traditional VoC surveys are focused on numeric, quantitative metrics because these are easiest to analyze and are good for revealing, for example, that your customers are unhappy. However, they don't always give you the qualitative insights that explain why - or the emotions they're feeling.
For deeper insights, you need to analyze the many real interactions that your organization has with customers every day, such what they say on email, chat or social media. Reading through qualitative data, such as free text interaction was once a time-consuming, often manual process but now you can do it at scale using AI and text analytics. This provides a qualitative picture of what's happening at any one time, and in particular helps you understand customer emotion, even within digital channels and across millions of messages. This delivers real insight into whether your restructure is helping CX or harming it – and how to fix any problems before they escalate.
2. Listen to staff – and support them
Customer service staff are on the frontline, acting as ambassadors for your brand. So, during any change or restructuring process, it's essential to keep them motivated and happy if you want them to deliver great service.
Consequently, you need to reassure them and involve them in the change process, making sure their concerns and needs are built into the plan. Do ensure they are given support to deliver the best possible service, such as by giving them access to the best technology and systems that provide them with the information and tools they require.
3. Innovate continually
It may be that your brand doesn't need to undergo a 'big bang' restructure, but instead needs to focus on making a larger number of continual, smaller changes. Listening to customer insight can help deliver these changes, and ensure they deliver ROI.
The key to success here is to have an ongoing, rigorous process that identifies and implements change opportunities that will drive continuous incremental improvements to CX. To ensure that you achieve their goals and deliver real benefits, your program needs to identify, develop, implement and measure the impact of change on your customer experience, as set out in this white paper from the Cranfield Management Forum.
Across every industry and country, change is now the only constant. At the same time competition is increasing continuously. Therefore, you need to ensure that customer experience remains the priority during periods of change – after all many changes are originally designed to ensure your business better meets customer needs. Put CX at the heart of any restructure and ensure you maintain the trust of your customers if you want to see the benefits of your investment.
Categories:
Best Practice, Trends & Markets
You might also be interested in these posts: