Why it is time to calculate the ROI of VoC programs
Published on:
March 28, 2018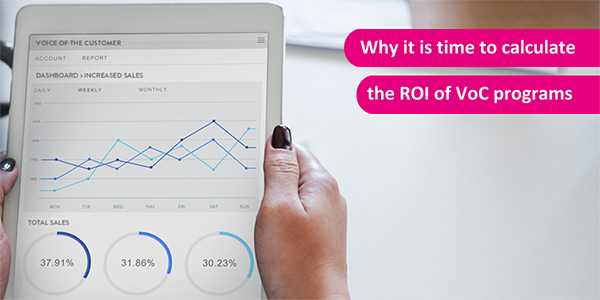 Businesses have been running Voice of the Customer (VoC) programs for some time, but in many cases overall customer satisfaction has actually deteriorated. Part of this is due to rising consumer expectations, but it is also due to a failure of VoC programs to deliver a real return on investment by driving significant changes in the business.
Research from the Temkin Group backs this up – it found that just 14% of companies had reached the two highest levels of its VoC Maturity model and that under a quarter (24%) of businesses felt that they were able to turn VoC insights into concrete improvements to their processes.
One reason for this is a focus on using customer feedback from surveys to drive VoC programs, which gives an incomplete picture of consumer needs. It is also driven by what is measured. Many companies rely on metrics such as Net Promoter Score (NPS), CSAT or Customer Effort Score (CES), which give a numeric value that you can track over time. This can then show you if you are improving or worsening, but you cannot go beyond perceptions to see what has caused customers to become upset or what you can do to improve operations.
What is needed is to take a more holistic approach that moves past simple insight (the who, what, when and where), to look at why customers are behaving in particular ways. This can be linked to business metrics to give a true ROI figure. Here are four examples of areas where brands can look at driving ROI from their VoC programs:
1 Customer retention
Retaining existing customers is substantially cheaper than recruiting new ones, meaning that successful brands increasingly focus on creating long-term relationships with loyal customers. Often the reasons for customer churn are not captured by traditional VoC surveys – angry customers simply leave after a bad experience without explaining why. Therefore if you can measure the percentage of your customers that are at risk, calculate how much they are worth to your business, analyze why they have negative perceptions and turn them into positive brand ambassadors, you can boost revenues and reduce churn. This requires understanding what causes customers to leave, taking action to fix issues and then measuring improvements in retention rates.
2 Better customer service
Recent research by Eptica showed that nearly a quarter (23%) of customers repeat their question if it isn't answered first time, while 30% switch to another channel. By failing to solve problems on the customer journey brands therefore not only annoy consumers but also push up their costs with repeat contacts, often through more expensive channels such as the phone and email. If you can use your VoC program to understand and fix the pain points across the customer journey you can therefore reduce avoidable customer contact, helping efficiency and customer satisfaction. This directly decreases costs and frees up staff to focus on more complex queries that build stronger engagement with customers.
3 Increased sales
The online customer journey is solely driven by the consumer – they control its direction and speed. Potential customers can therefore drop out, even at the checkout, without you being able to intervene in time. Lost business obviously hits revenues, meaning that a better understanding of why customers have problems at specific touchpoints is vital to improving sales. Analyzing the questions customers ask when looking for assistance therefore enables e-commerce teams to better plan the customer journey to make it seamless and straightforward. For example, you can easily identify specific issues that are related to security, payment or promotional codes, fix these bugs quickly and consequently improve the online shopping experience.
4 More personalized marketing
Understanding customer expectations and requirements is central to engaging with consumers and delivering the personalized experience that they are looking for. Brands therefore need to link VoC insight to their marketing campaigns. By measuring the increase in sales from existing customers through more targeted approaches, you can again calculate a clear ROI for your VoC program.
As Temkin Group says, to get full value from VoC programs, brands need to become more mature – and that means going beyond perceptions to unlock actionable intelligence that delivers real business benefits and ROI.
Categories:
Best Practice, Trends & Markets
You might also be interested in these posts: