Why it is time to check your chat solution is meeting customer needs
Published on:
August 21, 2019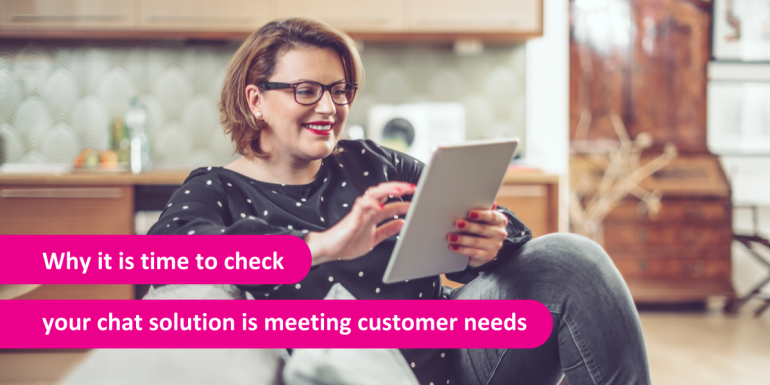 Chat is fast becoming a mainstream channel when it comes to customer service. For example, while 7% of UK companies offered chat in 2013, by 2019 Eptica research found that 44% advertised it on their websites. Mirroring this, 83% of contact centers surveyed by Contact Babel said that they expected chat usage to increase over the next 12 months – the highest growth for any channel.
This isn't surprising – as well as the benefits for consumers, chat helps brands:
Boost online sales by converting customers that may otherwise have abandoned transactions. It also allows companies to potentially upsell other relevant products and services during the chat conversation.
Increase productivity by maximizing agent time. Agents can normally handle multiple chat sessions at once, meaning they can be more efficient while still delivering superior customer service.
Reduce costs. According to Contact Babel the median cost of a chat session is £2.67, below that of every other channel. In comparison, a phone call is £3.78, email £3.09 and social media £3.00.

However, at the same time as adoption has increased, so have customer expectations. While early adopters may have seen it as a novelty, today's consumers want chat to deliver fast, comprehensive answers to their queries, 24 hours a day.
This isn't always the case – just 15% of consumers said they were always happy with the service they received via chat, according to Eptica research. The most common complaints were a lack of resources, poor personalization and inadequate access to knowledge and information on the part of chat agents. Despite its importance, chat can also feel like the first channel to be switched off when resources are stretched. For example, of the 44% of companies surveyed by Eptica that claimed to offer chat, only 26% had it working when tested.
So what should brands look for when they are choosing a chat solution? Focusing on these five areas is key:
1. Easy to use
Thanks to the rise of messaging apps, consumers are well-versed in chat-style communications. They, therefore, expect the same ease of use when it comes to chat on company websites. It should be simple to access, clearly signposted and straightforward to use, with features such as the ability to share screens and information built-in. For agents, it has to be equally easy to use, particularly as many will be expected to manage multiple chats at once. By minimizing the need for specialist chat training, brands also have the ability to bring in agents from other channels when required, boosting resources and helping meet times of increased demand.
2. Integrates well
Chat is just one channel within customer service, so it needs to be integrated into your overall infrastructure. That means it needs to connect to other channels, enabling agents to access wider information, such as customer records or the pages on your website that a consumer may have browsed, in order to deliver a joined-up experience. At the same time, chat agents should be able to access your centralized knowledge base to ensure they provide consistent and accurate answers to queries. Finally, if consumers move from chat to other channels (such as email or voice), this needs to be seamless, without requiring them to re-enter information or repeat themselves.
3. Covers proactive and reactive
Reactive chat, initiated by the consumer, delivers real benefits as it allows them to ask questions when they require it. According to Forrester, 44% of online consumers say having questions answered by a live person during an online purchase is one of the most important features a web site can offer. Proactive chat goes a step further. Triggered by pre-defined rules, it allows brands to offer help before customers actually ask for it. For example, if a consumer has been on the checkout page for a certain amount of time without moving forward, or appears to be stuck on a particular step in the journey, then a proactive offer of help through chat can make all the difference. This not only benefits the consumer but also increases sales as it potentially converts more browsers into buyers.
4. Embraces AI to improve experience
Artificial intelligence and text analytics can help deliver a faster, more personalized service on chat by automatically analyzing incoming questions. This information can then be used to route chat sessions to the most relevant agent, based on factors such as language, skills and knowledge, and can also be used to recommend relevant answers. This ensures that your customers receive a more consistent, informed response while maximizing agent productivity and speed.
5. Provides full analysis of what is being said, alongside outcomes
To continually improve and meet customer expectations, brands need to listen to consumers and act on the insight they provide. Chat is key to this, so make sure that your solution has the ability to store conversations, analyze questions and see when in the journey they are asked. For example, if there are a large number of questions about a particular step in a process, the information provided online needs to be reviewed and improved in order to increase confidence and overcome any barriers to purchase. Your solution should also be able to understand what is being said in terms of themes, tone and emotion in order to deliver deeper insight into what customers feel.
Most brands have adopted chat in some form but, given its central importance to customer experience, now is the time to take a step back and ensure that your chat solution matches your (and your customers') needs if you want to increase engagement, sales and agent productivity
To find out more about Eptica's chat solutions visit www.eptica.com/products/chat. To learn how vecko by Eptica can increase actionable insight from customer conversions and book a demo click here.
Categories:
Product, Best Practice
You might also be interested in these posts: