Why listening to your customers is vital to success this Christmas
Published on:
November 20, 2018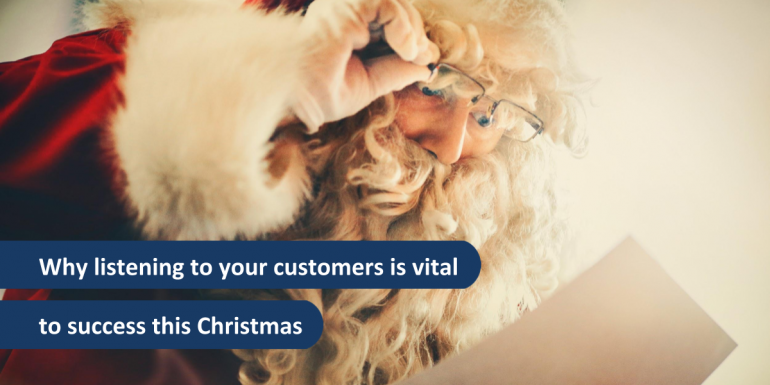 Retailers don't need reminding that the peak Christmas season is now upon us, with Black Friday and Cyber Monday already in full swing. Given the importance of Peak to retail success and ever-increasing competition, it is no exaggeration to say that this Christmas will be make or break for many companies. How can they ensure that they thrive, rather than going the way of businesses such as Toys R Us and Sears?
The key is delivering a customer experience that engages consumers and builds loyalty, particularly online. According to Forrester by 2020 almost half of global retail sales will be via the web – with $2 trillion spent via ecommerce in 2017 alone. Even in mature online markets such as North America and Western Europe, retail sales grew by 12% last year.
Creating customer insight
Delivering what consumers want relies on building a detailed picture of customer needs. However, at the busiest time of the year, with ever greater volumes of interactions, how can you achieve this? Essentially it comes down to focusing on four key areas:
1. Listen to the complete Voice of the Customer
Eptica research found that while 78% of brands measure customer satisfaction, just 24% believe they are getting real insight from it. Often this is because they are not analyzing the complete Voice of the Customer (VoC), focusing only on structured, survey data. This feedback just gives a partial picture – it may show how happy a customer is or provide a Net Promoter Score, but in competitive markets this is not enough. Retailers need to analyze the complete customer conversation, including all interactions on digital channels such as email, social media and chat. This unstructured data gives direct insight into what customers are really thinking, demonstrating WHY they are feeling and acting in particular ways.
2. Take business actions based on customer insight
Simply collecting customer insight is just a start – brands clearly need to be able to act on this information to drive real change. However, the sheer volume of available data can make real-time analysis difficult. How can companies successfully sift through millions of pieces of information quickly enough to spot issues that they can act on? The answer is to adopt artificial intelligence within Voice of the Customer programs. This enables you to analyze even the largest sets of data, from across multiple channels, allowing improvements to be made that boost business metrics such as retention, satisfaction and overall spend.
3. Share information across the organization
Customers expect a holistic, joined-up approach from companies, yet too many brands store customer insights in silos, rather than sharing them between departments. Eptica's research found that while data was shared with marketing in 78% of companies, and sales (74%), just 38% distributed this information to their e-commerce teams. Only 21% shared it with in-store staff. Given the rising importance of online and omnichannel shopping, this risks insight being lost, preventing well-informed decision making or holistic improvements
4. Deliver a multichannel experience
The number of channels consumers use is growing – for example, 54% of respondents to an Eptica survey said they'd be happy to interact with brands through voice assistants such as Amazon Alexa or Apple's Siri. Often consumers want to use multiple channels in the same transaction and expect brands to be able to deliver a joined-up experience. That requires organizations to break down barriers between departments, sharing customer information and knowledge in order to make the whole buying process straightforward and seamless.
Christmas is coming and retailers need to ensure that they engaging with shoppers if they want to have a happy holiday. And that means listening more closely to their customers – and acting on the insight they provide.
Categories:
AI, Best Practice, Artificial Intelligence, News
You might also be interested in these posts: