Why sharing customer intelligence is vital to CX success
Published on:
May 22, 2019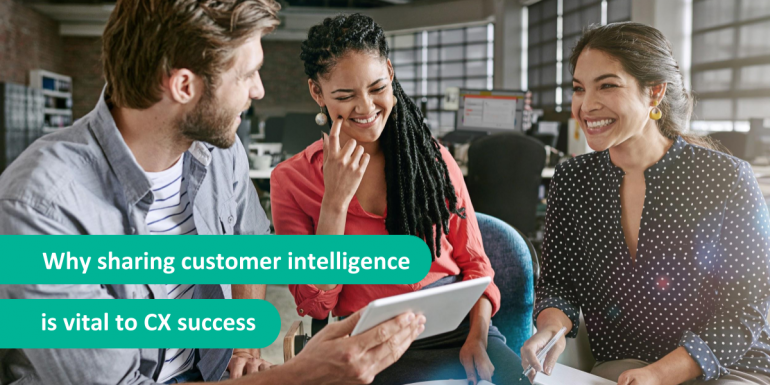 In today's ultra-competitive markets, delivering the experience that customers demand requires everyone in the organization to work together. However, this can be difficult for many brands as departmental silos hamper collaboration, meaning that information is not shared and issues remain unresolved. The result? Unhappy customers who share their bad experiences, damaging revenues and reputation. Research backs this up - over 9 in 10 consumers say not getting a satisfactory response to a query makes them less loyal.
To fix issues across the customer journey brands need to listen to consumers. They must share the intelligence that Voice of the Customer (VoC) programs collect between departments in order to drive collaboration. Yet while 79% of brands surveyed by Eptica shared VoC information with marketing, just 38% communicated it to ecommerce and 21% with teams running physical shops.
This collaboration is prevented by three key factors:
1. Scale
Large organizations employ tens of thousands of people, spread across multiple locations and roles. For example, a retail business might have hundreds of stores, each with its own manager. Each of these needs tailored intelligence on customer satisfaction in their location in order to drive improvements. However, generating this number of reports can be difficult and time-consuming for VoC teams.
2. Complexity of data
Effectively listening to customers requires
a holistic approach
that covers all interactions. However, many VoC programs just focus on feedback surveys, which only capture a partial view, ignoring unstructured data from areas such as verbatim customer conversations and social media. Gaining a complete picture and sharing it with the right people in the organization is vital to delivering the joined-up, cohesive experience that consumers demand.
3. Speed
Brands operate in a fast-moving, 24x7 world. That means they need to be able to react quickly to customer needs and to access, analyze and share intelligence
as soon as possible
. Too often they are held back by the time it takes to collect, evaluate and report on customer feedback, which can be scattered across different departments, leading to missed opportunities and lost revenues.
Moving from basic VoC programs to embrace true customer intelligence enables brands to collaborate effectively, sharing a complete picture that brings together unstructured and structured data at the speed that the business requires. Modern customer intelligence tools, such as Eptica's
vecko
, deliver this through three key capabilities:
1. AI to analyze unstructured data
With the average UK consumer contacting companies by email 2.5 times per month, Eptica research found that brands in the UK now receive over
1.5 billion emails
every year. In the past analyzing this unstructured verbatim data was difficult because of its sheer volume, with it simply taking too long to manually read and categorize this qualitative information. The advent of AI and text analytics transforms this, enabling brands to quickly analyze unstructured data, finding patterns based on a deep understanding of the business and its customers.
2. Targeted reports
Different gs within an organization have different needs when it comes to
customer intelligence
. For example, a store manager needs to know about customer satisfaction and NPS in their individual location, as well as how it compares to similar shops and has changed over time. C-level executives need a more high-level view, while the marketing and e-commerce teams want a more granular understanding across the customer journey. Automation and templates can help create and deliver these tailored, targeted reports quickly, rather than the VoC team having to manually build them from scratch. This speeds up the sharing of information and increases collaboration across the business.
3. Built-in action planning
Identifying an issue is just the start of closing the loop. Brands need to take fast, effective action in order to solve problems. Sharing best practice between teams is crucial here, enabling reports to contain recommended actions that can help solve problems and therefore improve customer satisfaction. For example, take a store manager for a fashion retailer that is receiving complaints about long queues for its fitting rooms. They could learn from the actions taken by colleagues, and introduce a more flexible returns policy that encourages customers to buy without having to try on garments.
Meeting the needs of today's demanding consumers requires
collaboration
across the business. Customer intelligence is essential in enabling teams to work together. Ensuring it is accurate, complete and truly reflects the entire Voice of the Customer is therefore vital to ongoing business success, whatever industry you operate in. To find out more about vecko, Eptica's next generation, AI-based customer intelligence tool
visit our dedicated minisite
or
click here to request a demo
.
Categories:
Product, Best Practice
You might also be interested in these posts: