Why you can no longer ignore SaaS for your CX applications
Published on:
August 28, 2018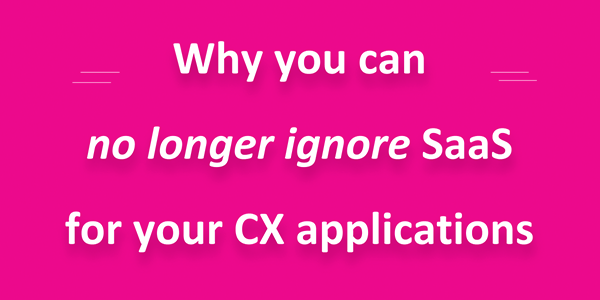 Look in almost any industry sector and you'll notice that the way software applications are deployed has changed radically with the rise of the Cloud. And this is just as true in the Customer Experience (CX) and contact center market, where 44% of companies polled by ContactBabel said they were using SaaS or Cloud-based systems. The data suggests that the trend towards SaaS is growing, regardless of the size of the contact center involved. And in some contact center applications SaaS deployments are set to double in the next two years.
For those considering a move from on-premise to SaaS what are the advantages? And what should they be looking for to ensure that the switch delivers results?
1. Lower management time and cost
If you're using on-premise software you have to buy and manage your own IT and servers, adding to capital costs – so it's important not to forget these 'hidden costs' when budgeting. And on-premise applications absorb a significant IT management overhead – so switching to SaaS means you can focus on what you want to achieve in your business, rather than managing technology. With SaaS your costs switch from Capex spend to Opex making them more predictable and easier to account for. To top things off you could well get greater reliability as you can expect 99.999% uptime guarantees from vendor SLAs.
2. Greater flexibility and scalability
Customer service teams often see big peaks and troughs in demand (such as around Christmas in retail, where hundreds of temporary agents are brought in). With on-premise you have to have enough system capacity to cope with highest loads – but with SaaS you can buy capacity as you need them and meet demand through right-sizing. There is also greater flexibility to move or add new teams or locations with SaaS provision.
3. Increased Security
Protecting personal data is vital for building and keeping customer trust and loyalty. With the rise in hacking attacks, security is an increasing large cost for businesses, particularly those that are not tech specialists. SaaS systems are created and run by technology experts whose business relies on them being secure. They invest considerable amounts in keeping software and data centers secure, and it's in their interest to be always up to date on the latest security trends. So essentially you are paying less to get the same (or better) levels of security.
A related issue is privacy, with SaaS vendors operating with EU customers now required to be GDPR compliant, helping you to meet your own compliance needs. Such is the momentum in terms of data protection that many organizations that previously had very strict rules about keeping customer data onsite (such as banks) are now adopting Cloud-based solutions.
4. Easier and quicker access to the latest technology
In the old on-premise model you would buy and install software on your servers. Due to the time and potential disruption involved in rolling out updates, you'd only do them infrequently – annually at best. Updates and installing new features also generally required the IT department's time, meaning you would be competing with other projects for resources, leading to further delays (particularly for retailers which have very short timeframes when IT can be updated to avoid issues during Peak). With SaaS however, the applications are not deployed on your servers, allowing for updates to be installed much more frequently, such as quarterly. So you get access to the latest technology, features and bug fixes and are always up to date. And you can quickly add new features without having to re-install the base software.
5. Wider choice of applications
Today, more and more systems are only available on SaaS, particularly when it comes to new software introduced by innovators and startups. SaaS meets the needs of today's businesses and the modern workforce, which is used to accessing online apps and solutions in their private lives. SaaS applications are built to be easier and faster to install and to integrate with existing systems with little fuss, provided they have open, accessible APIs. Plus it is also much easier and less painful to switch SaaS applications if you feel your current vendor no longer meets your needs.
6. A smooth migration path to SaaS
There was a time when you might have had concerns that the process of moving from on-premise to a SaaS deployment might be a long, complex and expensive process – and potentially disruptive to business. But migrating to SaaS is now a streamlined process with many of the original 'kinks' taken out. Moving data from on- premise to the cloud is straightforward and vendors are now very experienced at helping companies manage migrations so that you can seamlessly move your system over.
For CX and customer service software – much like in other areas - there is now a growing, almost inevitable, shift from on-premise solutions to the cloud. SaaS delivers major advantages in terms of cost, management overhead and most of all, business flexibility. In increasingly competitive markets CX is crucial making it essential that you explore how moving to a SaaS model for your applications can help transform your operations.
Categories:
Best Practice, Trends and Markets
You might also be interested in these posts: