CAF is one of Europe's largest charitable foundations, producing research on charities and charitable giving, developing policy ideas and working with people, companies and charities to help good
causes thrive.
Established over 90 years ago, CAF works with a wide range of organisations and individuals, meaning that its 80 strong customer service team has to respond to emails across a wide range of topics. These can concern corporate Give As You Earn schemes, individuals looking to donate through CAF accounts or charities themselves looking to boost their fundraising.
CAF had two objectives when it came to customer service. It wanted to improve the end-to-end customer experience, delivering a fast, joinedup and knowledge based response to all emails. Secondly, it wanted to maximise efficiency, so that it could pass on the maximum amount of donations to charities by keeping administration costs as low as possible...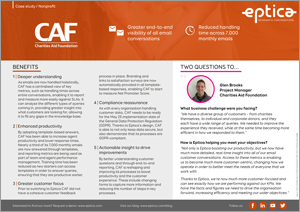 Download the full case study
Please take a few moments to fill the information below.